Which is better?
Running a guild can be tough. Extending a helping hand, organizing raids and community events, and leading a group of people, all while still getting in your gameplay and meeting your own individual goals, can require much of your energy and time.

That's why providing yourself and your guildies with a proper guild website is essential to the growth and stability of your guild. The best guild website hosting will provide the tools you need to build a haven outside your game where you and your members can communicate, plan, and stay organized.
So if you're wondering what guild website host offers the most in terms of game support, features, and versatility, keep reading.
---
Enjin Guild Website Hosting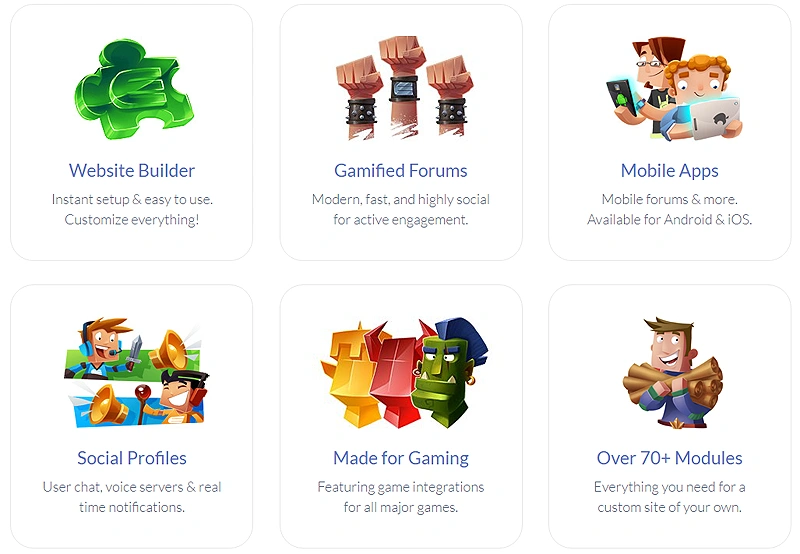 Enjin has been one of the best guild website hosts for years, and with good reason. They have specially designed sites with deep game integrations for games like Minecraft, World of Warcraft, Unturned, Battlefield 1, and more. They also have a ton of game specific modules to customize your site regardless of which game your guild is in.
I have personally run 3 different guild sites on Enjin over the years, including my current FFXIV free company's website. I like Enjin because of its variety of modules and feature rich guild website builder. You can create some visually stunning sites pretty easily.
But how do their plans compare?
Though I have paid for their premium packages in the past, the site I run now is currently hosted for free. Sometimes members of my community will pitch in some paid time, but for the most part, we use the free plan.
Perhaps my biggest complaint about Enjin is the severe limitations they place on free websites. Want a chat box? Sorry, advertisers won't allow that… gotta upgrade! Image gallery? Upgrade. Want a calendar so that you can schedule events for your guild? You guessed it, upgrade.
While Enjin's paid plans are quite extensive and include a wide variety of modules and features, their free plan is extremely minimal in comparison, and it feels like a lot of basics that should be included are not unless you upgrade.
I also run into recurring bugs from time to time, like having to refresh an image after uploading in order to post a comment, or random comments from other users appearing on a brand new upload to my personal gallery. From what I have seen, these bugs have only happened on personal profiles and not the main site, but are inconvenient regardless.
What about customer support?
There have been mixed reviews about customer support, but my experience has been positive. I recently had an issue with the website and contacted them with a bug report.
I wasn't expecting to hear back for at least a day or two but was surprised to receive a reply from support within 15 minutes. They also followed up with me after fixing the problem about a week later. I don't know whether this is a common occurrence from their support team, but I was pleasantly surprised nonetheless.
Great for new communities to grow
If your guild website needs are minimal and you can live without all the fancy features, Enjin is one of the best guild hosting sites. They have a massive community of gamers, fast customer support, and many options to tweak your site as you like. Plus, if you decide to upgrade at any point and invest in a decent theme, you can fully tailor the site to your needs and specifications.
---
Shivtr Hosting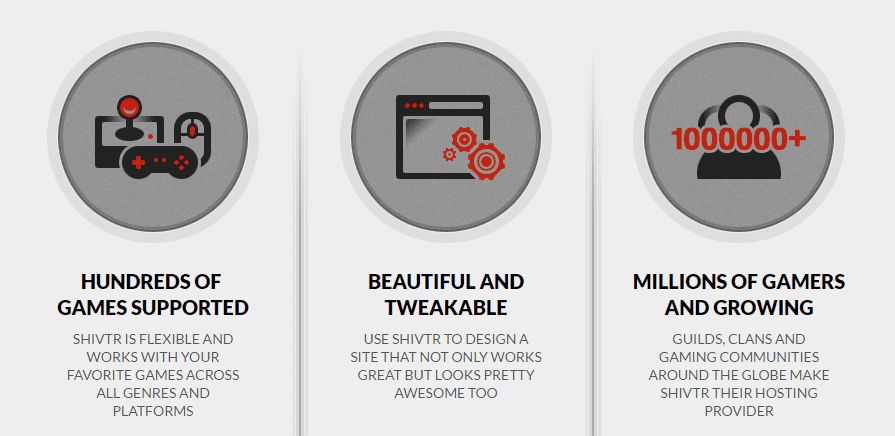 Shivtr is another big player in guild website hosting and has been around for years. They support tons of games across multiple platforms and genres and have all of the features you need in a community site that will help your growing community stay connected and informed.
They pride themselves on their beautiful and tweakable themes and easy-to-use guild website builder, and with good reason – it's completely beginner friendly!
Easy to use guild website builder
Though I have not personally hosted a guild website with Shivtr, I have been a member of guilds in the past that did host their websites there, and I didn't have any complaints about the features available to me as a member.
But for the sake of this review, I created a mock website on Shivtr to try out their website builder and see if what they offer is comparable to Enjin.
I was pleasantly surprised by how easy it was to sign up, set up a site, and customize it to my liking. There were a handful of pre-built themes to choose from, which allowed me to customize the color scheme, background images, header images, text, and more.
The entire process was beginner-friendly, and I didn't run into any issues with it.
Feature-packed, low cost
Shivtr has a free plan, which I signed up for to test things out, but they also have several premium plans ranging from $8 to $16 a month. Though I didn't spend a lot of time going through all of the available features, the free plan seemed to have everything I would deem important for a community site, like:
​Forums
Polls
Media Galleries
Events Calendar
Character Rosters (for supported games)
Progression Trackers
Lots more
While the free plan is supported by ads, it seems to have most, if not all of the same features that the paid plans have. And while you don't get as much storage with the free plan, it's still enough to get you set up quickly and easily on a free plan, while allowing you to grow into a paid one at a later date if you decide you need to.
So, which is better?
I think it depends on what you want.
Personally, I loved how easy it was to set up a beautiful, feature-rich site with Shivtr's guild website builder. Very user-friendly, and they pretty much blow Enjin away when you consider how many features they offer in their free plans. That flexibility allows you to grow a community from the ground up and buy later on when you need more space.
On the other hand, Enjin's guild website hosting has tons of supported game integrations and themes, a huge community of gamers, a supported mobile app, and reliable customer support (at least from what I experienced). So while their free plan isn't as appealing as Shivtr's, they are my pick for guild site hosting and are where I personally host my own site.
Check out them both out and see which you like better!