The Hung Jury SR4 (Adept) is a Kinetic Legendary Scout Rifle introduced in Destiny 2 Season 14: Season of the Splicer. The weapon is finally making a return as the reward for this week's Grandmaster Nightfall rotation in Birthplace of the Vile – so it's the perfect opportunity to discuss what perks you should look forward to farming on your Hung Jury.
In this Destiny 2 God Roll Guide, we'll look at the optimal perk combinations of the Hung Jury (Adept) that will make the gun your go-to weapon for any PvP and PvE activity in Season 19.
---
Hung Jury SR4 (Adept) PvP God Roll
Scout Rifles are the meta in Destiny 2 PvP right now and even if you aren't a fan of Crucible, Iron Banner, or Trials of Osiris, having a PvP God Roll Hung Jury Adept ready in your Guardian's arsenal never hurts. While the notion of a 'perfect god roll' is different for every playstyle, here are my recommendations:
Barrel: Small Bore
Magazine: Accurized Rounds
Trait #1: Rapid Hit/Moving Target
Trait #2: Box Breathing
Masterwork: Stability
Mod: Adept Range
As you can see from the list of perks above, we're going with a build that enhances the Scout Rifle's Stability and Range – two stats that are crucial in any PvP engagement. 'Rapid Hit' complements this idea by improving both Reload Speed, and Stability with each precision hit. 'Box Breathing' is, in my opinion, one of the most underrated Scout Rifle perks, and you'll never realize how much harder it makes the Hung Jury hit until you use it. It boosts the damage of your opening shot by a whopping 66% once you proc it by aiming down sights for 1.5 seconds. You can potentially two-tap any enemy (at range!) if you land your shots. True Vanguard demonstrates this exceptionally well in this video:
---
Hung Jury SR4 (Adept) PvE God Roll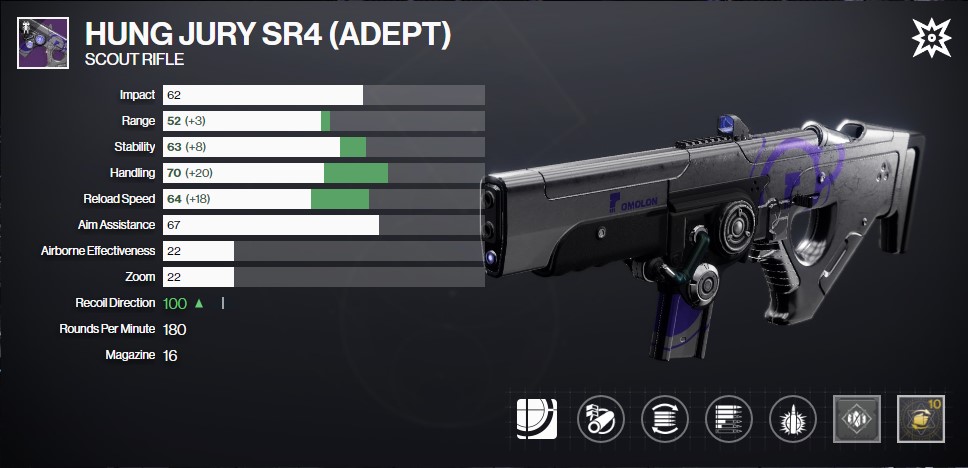 Scout Rifles are one of the go-to weapons in PvE for high-difficulty endgame content in Destiny 2, where you'll need to deal maximum damage while keeping a safe distance from your enemies. Here is the PvE God Roll for the Hung Jury Sr4 (Adept):
Barrel: Arrowhead Brake/Fluted Barrel
Magazine: Flared Magwell
Trait #1: Subsistence
Trait #2: Explosive Payload/Firefly
Masterwork: Handling/Reload Speed
Mod: Adept Big Ones Spec
We're prioritizing the Hung Jury's Handling and Reload Speed while also eliminating its recoil for optimum usage in PvE activities. 'Subsistence' automatically reloads the gun with every kill, and 'Firefly'/'Explosive Payload' provides a straight boost to its overall damage and add-clearance potential. Finally, the 'Adept Big Ones Spec' weapon mod increases your damage against Powerful Combatants and Bosses. Don't forget that Overload Scout Rifle is an option to counter Overload Champions in Season 19!'
---
How to Get the Hung Jury SR4 (Adept) in Destiny 2 Season 19
The Hung Jury Adept is this week's guaranteed reward for clearing the Birthplace of the Vile Nightfall at Grandmaster difficulty.
Birthplace of the Vile is the third Vanguard Strike in Season 19's weekly Grandmaster Nightfall cycle, which will go live today, January 31, 2023, at 9:00 AM PST/12:00 AM EST. You will have exactly one week to grind for the best rolls for the Scout Rifle in the GM NF before it is removed from the rotation next Tuesday.
---
The Hung Jury (Adept) is one of Destiny 2's top 180 RPM Legendary-rarity Kinetic Scout Rifles, and it's well worth grabbing if you enjoy using long-range weapons. Because it is a Grandmaster Nightfall-exclusive weapon, it will be a long time until it is available again after it is removed from the reward rotation next week. Best of luck with your grind, Guardian!