Are you looking for opinions on Logitech's G900 vs G502 gaming mice? These two models are extremely popular and highly rated amongst gamers, but what makes these bestsellers stand out from the competition? And more importantly, which one is better?
On this page, we're going to look at the common features these two gaming mice share, cover their key differences, and provide an in-depth overview of each model to help you decide which one will best meet your needs.
Let's get started!​
---
Shared Features of the G900 and G502
You might be surprised to learn that Logitech's G900 and G502 are essentially the same mice, with just a few key differences. Both models utilize the PMW3366 sensor, which is widely considered to be one of the most accurate and responsive optical sensors you can get in a mouse and one revered by pro gamers.
Both mice have adjustable DPI from 200 – 12000, 11 programmable buttons, and customizable lighting, and they also use the same software. So from a functionality standpoint, both the G900 and G502 should operate the same.
But even though they share so many similarities, they also each have their own unique features that set them apart from one another.
---
Differences between G900 vs G502?
Wireless vs Wired
Perhaps the most glaring difference between the G900 vs G502 is that the former is a rechargeable wireless mouse, while the latter only has wired connectivity. The Logitech G900 is widely considered to be one of the best wireless gaming mice you can get right now because unlike other wireless options out there, this one has a very little signal delay and is almost as good as a normal wired connection. So if you desire the freedom of going cordless, this one is a great choice.
Custom Weight Tuning
On the other hand, what makes the Logitech G502 special is its weight tuning system, which allows you to change and reposition tiny weights on the mouse to lighten it, give it more heft, or shift the center of gravity so that your mouse feels just right.
The G900 does not have a weight-tuning system, so if this is a feature that you really want, go with the G502.​
Ergonomics and Grip Styles
The shape and ergonomics of each mouse are also widely different. The G900 boasts an ambidextrous shape that is compatible with both left and right-handed people. The width is also more narrow than the G502, by almost half an inch, so it's a better mouse for people with small hands.
However, the curve profile is fairly low and even. This shape is generally best for those with a palm grip, though claw and fingertip grips can probably still make it work with some minor adjustments.
The G502 is a right-handed mouse, and is significantly wider than the G900, so people looking for a gaming mouse for big hands will appreciate the larger size. It also has a higher arch profile, making it a good mouse for people who use claw or fingertip grips but might feel a bit awkward to those who control the mouse with their entire palm.
Understanding these differences will help you more easily decide which is the better mouse for you.
---
Overview of Logitech G900 Chaos Spectrum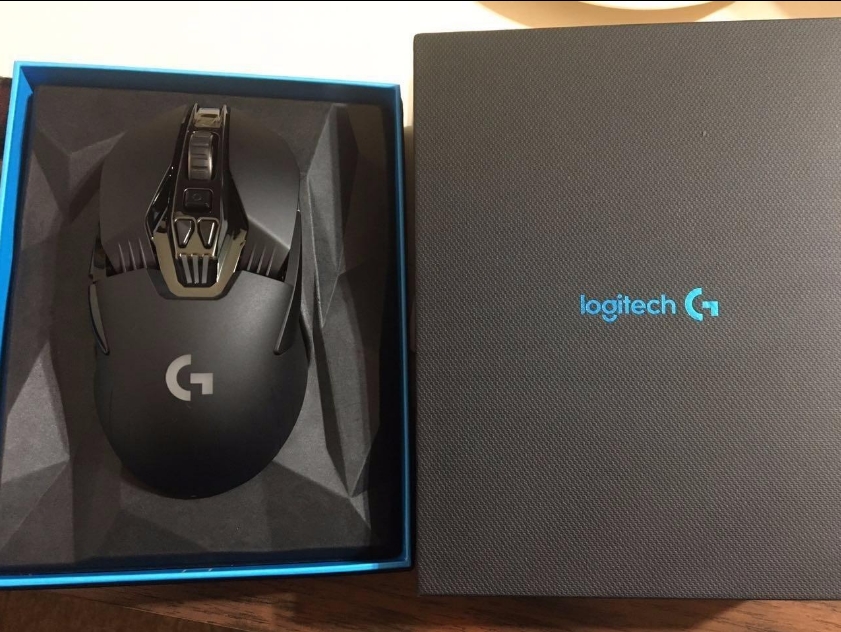 f you're looking for the ultimate gaming mouse that has a wireless connection, the G900 Chaos Spectrum can't be beaten. This professional-grade gaming mouse claims to deliver super-quick, lag-free response times as low as 1 millisecond in both the wireless and wired modes. Supposedly the wireless signal is so good, even pro gamers stand behind it.
Thanks to this, your mouse won't stop performing in the middle of an important match, even if you're using a wireless connection! What could be better than that?
Rechargeable 32 Hour Battery Life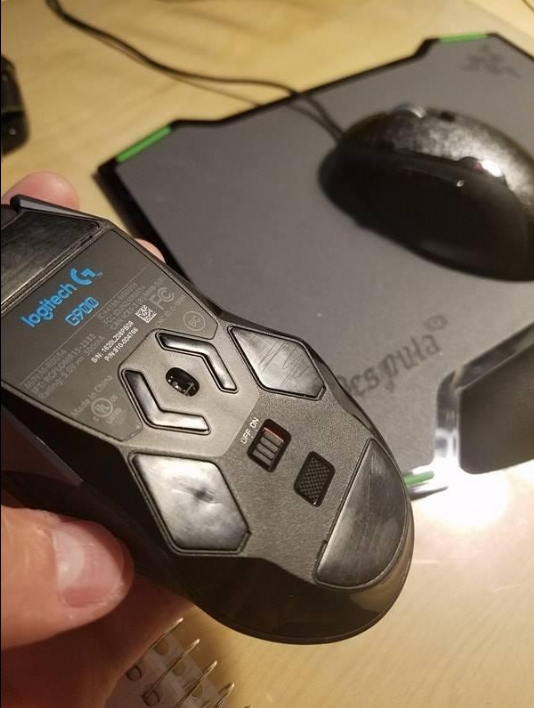 You can't have a wireless connection without a reliable battery to match. G900 outlasts many other wireless mice on the market with a battery life lasting up to 32 hours. This indicates that a single charge will most likely last you a couple of days, even with extensive use.

Low battery alerts and seamless switching between wireless and wired modes mean that you don't have to stop gaming when your mouse needs to recharge.
High Precision Gaming Sensor
This mouse is one of just a few Logitech models (including the G502) that come with the PMW3366 optical sensor installed. This sensor is widely considered to be one of, if not the best gaming sensors by gaming enthusiasts and pro gamers alike.
Zero smoothing or filtering across the entire 12000 DPI range means this mouse has consistent targeting accuracy and responsiveness at any setting. People who play highly competitive FPS games will benefit from this the most.
Durable Mechanical Button Design
The G900 vs G502 has a slightly higher build quality​. That's because, unlike the G502, this mouse has a metal spring tensioning system that ensures each click is delivered with speed, and precision, and provides clean and crisp tactile feedback with every button press.
What about the size and optimal grip?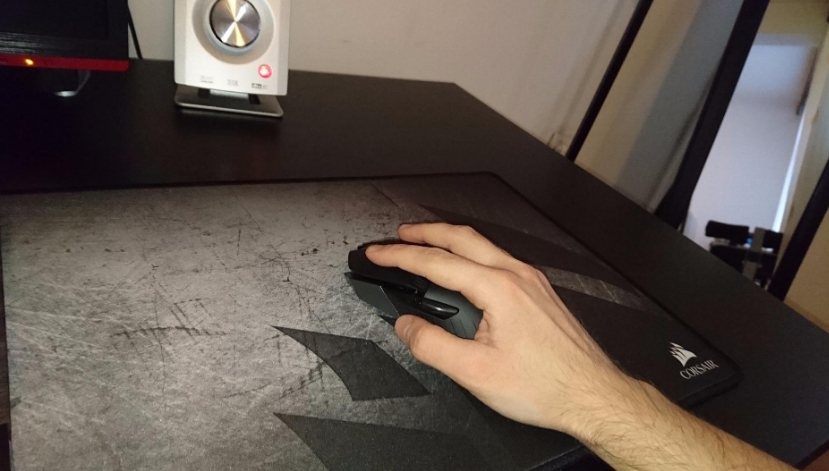 Logitech's G900 is an ambidextrous mouse and an excellent choice for both left and right-handed gamers due to the button options on both the left and right sides.

You are able to choose and configure the button layout that works best for you – whether that means only the left side, only the right side, or both. If you only intend to use buttons on one side, you can utilize the included button covers for the ones you won't be using.
This mouse is narrow in length, so those with smaller hands will likely be happy with the size and shape. People with large hands may find it too small and awkward to use depending on grip style.
As mentioned before, the curve profile on this mouse is low and even, so people who use a palm grip will probably find this more comfortable to use than others who play with a claw or fingertip grip. It's still useable, but you may find you have more fatigue after a longer gaming session. If you use a claw or fingertip grip, the G502 is a better choice in terms of comfort.
What type of gameplay is this mouse best suited towards?
Finally, the Logitech G900 Chaos Spectrum is a good choice for gamers who play FPS or RTS games the most. If you play a lot of MOBA games, you will probably still be happy with the overall features of this mouse, but there aren't as many convenient buttons to program as there are on a standard MOBA or MMO mouse.
Gamers who play MMOs and desire a full grid of buttons on the left or right side for easy access won't find that here. The programmable buttons on the G900 are a bit more scattered and not quite as convenient. That said, if you desire wireless functionality without compromising on quality and features, the G900 is a great choice.
---
Overview of G502 Proteus Spectrum Mouse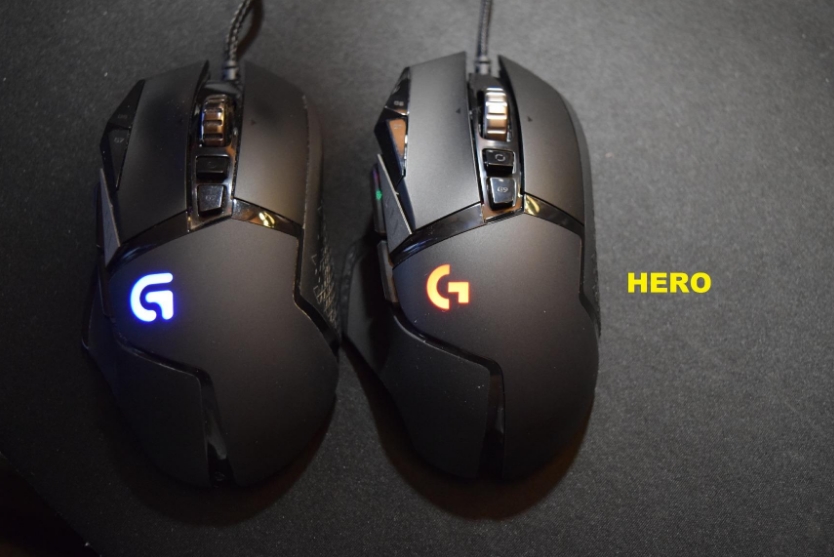 If you don't need the wireless functionality of the G900, or simply prefer the reliable and accurate performance of a wired connection, then the Logitech G502 Proteus Spectrum is a great alternative.
Accurate and Responsive Optical Sensor
Furthermore, this model is one of just a few Logitech gaming mice that have the PMW3366 optical sensor installed. As mentioned before, this is one of the most accurate gaming-grade sensors you can get in a mouse right now and is so reliable that even pro gamers who depend on minimal acceleration, pinpoint accuracy, and reliable targeting stands behind it.
Adjustable Weight Tuning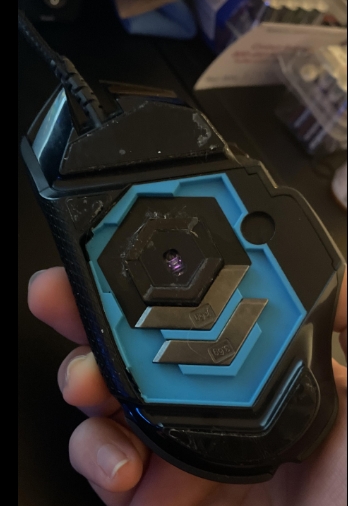 One feature this model has over the G900 is a tunable weight system that allows you to tweak the feel of the mouse until it's "just right".
Position one, two, or all five of the included 3.6-gram weights to provide more heft or lighten it up.
Custom Lighting, Programmable Buttons, and More
If you love being able to customize your gaming peripherals, this mouse will have you covered. You can set your own lighting colors, program up to 11 buttons, and more. There are a lot of options and flexibility here.
A Right-Handed Mouse for Larger Hands
This model has a right-handed, ergonomic design and is slightly longer and nearly half an inch wider than the G900. Gamers with larger hands will probably find the G502 more comfortable, and people who use a claw or fingertip grip will appreciate the higher profile of the curve, as it will more naturally fit into the open "curve" of the hand in those grips.
Gameplay Style?
Similarly to the G900, the G502 Proteus Spectrum will fit the needs of most people who play FPS, RTS, or MOBA games. Although there are a few programmable buttons, they aren't clustered together like on a traditional MMO mouse, so gamers looking for a bunch of programmable buttons will have to look elsewhere.
---
Which one is better: G900 vs G502?
Deciding whether the G900 or G502 is better is a bit subjective. They are both very high-quality products that are loved by gamers of all types. They don't have 4.5 stars for no reason! But which one is best for you will depend on what you are looking for in a gaming mouse.
Do you want:
A rechargeable mouse with a wireless connection?
Are you left-handed?
Do you have small hands?
Do you use a palm grip?
Do you prefer "safe" or ambidextrous mouse shapes over the funky shapes and contours of other gaming mice?
If any of these apply to you, then the Logitech G900 will be a better fit for you.
Alternatively, you may want:
A constant wired connection
Weight tuning customization
Are you right-handed?
Do you have larger hands?
Do you use a claw or fingertip grip?
If these options sound more appealing to you, then the Logitech G502 will suit you well.

Every gamer has different needs and requirements, so make sure the mouse you choose meets yours as closely as possible.
---
Conclusion
For a gamer, your mouse is the closest thing to a weapon you can get. The G900 vs G502 are incredibly popular mice that are as different as they are similar, so understanding which one is both comfortable to use and meets your individual gaming needs is crucial.

I hope this guide has helped you narrow your decision. Go ahead and check out the links on this page to read some reviews and see what you think, or if you've had an awesome experience with one of these mice, feel free to share your opinion in the comments below!