Hoyoverse's 'Special Program' live stream on Twitch and YouTube finally gave us a sneak peek into the upcoming content for the new 3.6 version of Genshin Impact. In this comprehensive Gamer Haul article, we will cover everything you need to know about the 3.6 update, including the release dates, featured banners, new characters, upcoming events, and more!
---
Genshin Impact 3.6 Release Date
The Genshin Impact 3.6 update is set to release on April 12, 2023, which follows the game's standard 6-week update cycle. The date was confirmed in the official live stream, which covered all the details about the new content coming to the game. That being said, be sure to roll on the current banners before they are gone and start saving on those precious primogems!
---
Genshin Impact 3.6: Upcoming Characters and Weapon Banners
The Genshin Impact 3.6 banners will feature reruns of Nahida, Nilou, and Ganyu, alongside the long-anticipated Baizhu and Kaveh, two new Dendro characters. There will also be a new weapon called Jadefall's Splendor (Catalyst) that will make its debut in the version 3.6 banners.
Phase 1 of the 3.6 update will have Nilou and Nahida reruns, while Ganyu, Baizhu, and Kaveh will be in Phase 2. We don't know the full roster of 4-star and 5-star characters for each banner yet, but it's shaping up to be an awesome lineup. If you're excited to add these characters to your team, make sure you start saving your primogems now!
Baizhu is a character that fans have been eagerly waiting for ever since he made his first appearance in the Archon Quest Chapter One, Act Two. And finally, after all the rumors and leaks, Baizhu and Kaveh are going to be officially released. Hoyoverse's "drip marketing" strategy has only added to the hype, and it seems like everyone is counting down the days until the update drops.
---
Genshin Impact 3.6: New Events & Rewards
Get ready for some exciting events and rewards in the upcoming Genshin Impact 3.6 update! The main event is the Akademiya Extravaganza, which features six new minigames. You'll need to replicate astral patterns, construct roads, find hidden relics, and more to complete the event.

A mix of new and returning events will also be in the 3.6 version:
A Parade of Providence

Rewards: Faruzan, Crown of Insight, Primogems

Brewing Developments

Rewards: Primogems, Talent level-up materials, character EXP materials

Fulminating Sandstorm

Rewards: Primogems, weapon Ascension materials, character EXP materials

The Recollector's Path

Rewards: Primogems, weapon Ascension materials, character EXP materials

Overflowing Mastery

Double Talent level-up materials
Make sure to participate in each of these events and claim your loot!
---
Genshin Impact 3.6: New Area & Bosses
In the upcoming Genshin Impact 3.6 update, players can look forward to exploring a brand new desert area, which the live stream teased as, "legend has it that a forbidden realm lies beneath the desert, with ruins of an ancient civilization and legacy of the divine."
This area will be home to the two new bosses, including the highly anticipated Dendro Dragon. It was previously leaked that the 3.6 version would introduce a new zone to Sumeru, complete with the Dendro Dragon's Cave and Dendro Archon's Lake, and it looks like those rumors were true. As always, discovering new areas in Genshin is an exciting adventure, and players can expect to uncover plenty of new lore details. Plus, defeating these new bosses will reward players with the resources needed to level up and ascend the two new dendro characters, Baizhu and Kaveh.
---
Genshin Impact 3.6: New Enemies
In the Genshin Impact 3.6 update, players can expect to encounter four new enemies, as revealed during the Special Program live stream. These enemies include:
Dragon of Verdure,
Iniquitous Baptiste,
Anemo Hilichurl Rogue, and
Hydro Hilichurl Rogue.
Each enemy will likely have unique abilities and require Travelers to come up with new strategies to defeat them and acquire the ascension materials for the new characters in 3.6. It's always exciting to face new challenges and see what new enemies the game developers have in store for us!
---
Genshin Impact 3.6: New Artifacts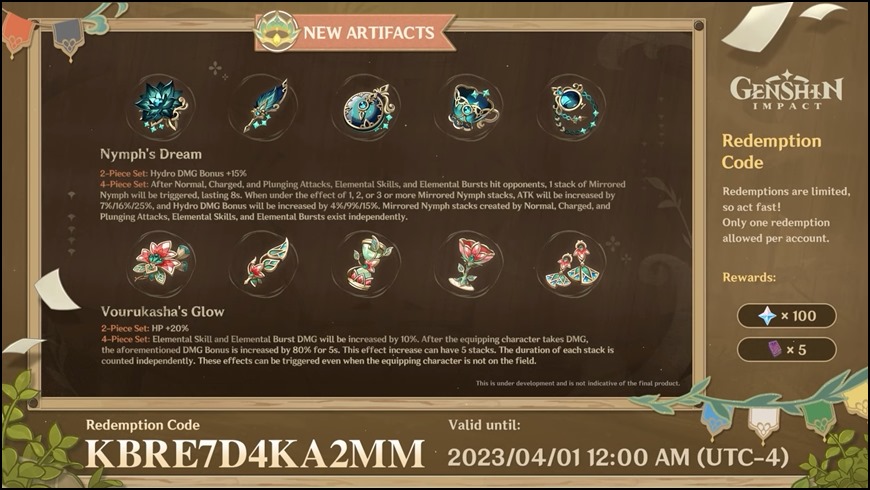 The 3.6 update will bring with it two new artifact sets to the game, Nymph's Dream and Vourukasha's Glow. Here are the details of the two:
Nymph's Dream
Two-piece: 15% bonus Hydro damage.
Four-piece: After normal, charged, and plunging attacks, Elemental Skills, and Elemental Bursts hit opponents, one stack of Mirrored Nymph will be triggered, lasting eight seconds. When under the effect of one, two, three, or more Mirrored Nymph stacks, ATK will be increased by 7%/16%/25%, and the Hydro DMG bonus will be increased by 4%/9%/15%. Mirrored Nymph stacked created by normal, charged, and plunging attacks, Elemental Skills, and Elemental Bursts exist independently.
Vourukasha's Glow
Two-piece: HP +20%.
Four-piece: Elemental Skill and Elemental Burst DMG will be increased by 10%. After the equipping character takes DMG, the aforementioned DMG bonus is increased by 80% for five seconds. This effect increase can have five stacks. The duration of each stack is counted independently. These effects can be triggered even when the equipping character is not on the field.
---
Genshin Impact 3.6: New Gadget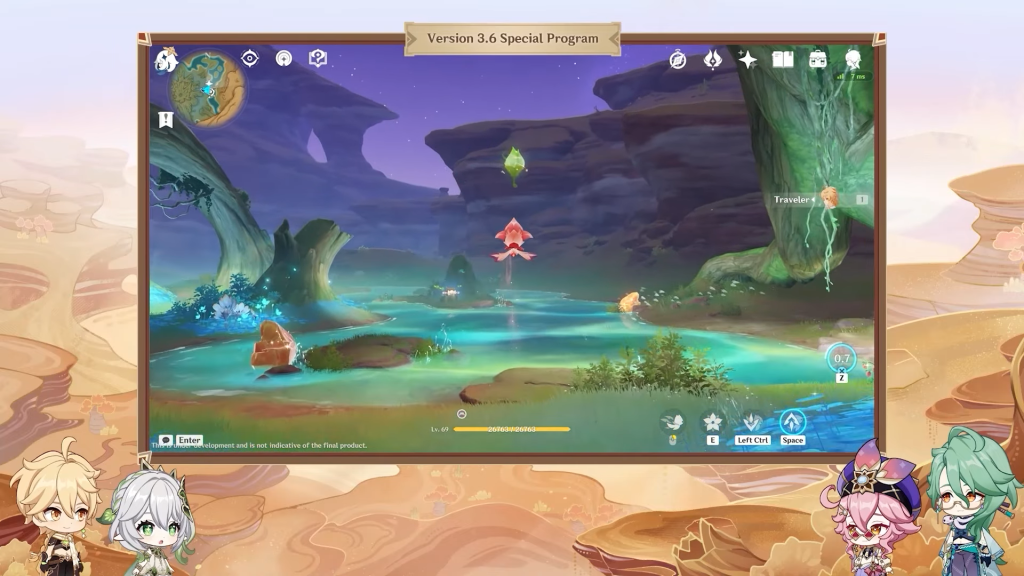 In Genshin Impact 3.6, players can look forward to a new gadget called Sorush. As you can see from the screenshot above, the gadget looks similar to a Seele and functions as a drone. It will allow players to scout out locations, pick up overworld items, attack enemies, and reach areas that would be difficult to access on foot. With Sorush, players will have a new tool to help them explore the world of Teyvat and uncover new hidden treasures!
---
Click here to check out our latest gaming guides!
All in all, Genshin Impact 3.6 promises to be another exciting update for fans of the game. With new characters, weapons, events, locations to explore, enemies to defeat, and a new gadget to play around with, there will be plenty to keep players occupied. Whether you're a seasoned adventurer in Teyvat or a newcomer just starting your journey, there's never been a better time to jump into Genshin Impact. Start saving on those primogems now, fellow Travelers!
---