Gris Gris Location CP2077 – The long-awaited 2.0 update has injected fresh excitement into the world of Cyberpunk 2077, and the release of the Phantom Liberty DLC has brought a wave of thrilling content, including an array of new Iconic weapons tailored to suit your playstyle. One such formidable addition is the Gris-Gris, an Iconic Tech Revolver that boasts a unique perk, making it a must-have for Netrunner enthusiasts. However, obtaining this weapon requires a bit of a treasure hunt, making it a hidden gem for true completionists.
Fear not, though, as in this comprehensive guide, I'll take you through the step-by-step process to acquire the Gris-Gris in CP2077: Phantom Liberty!
---
Table of Contents
---
How to Get Gris-Gris in Cyberpunk 2077: Phantom Liberty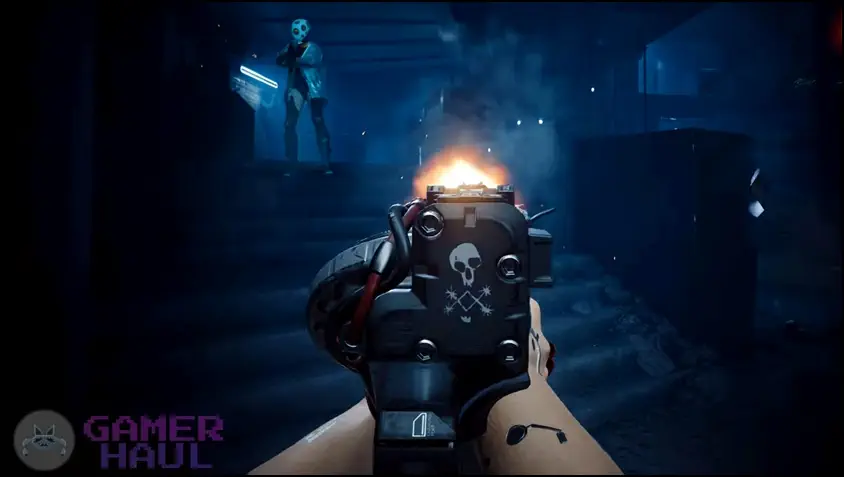 Currently, I'm running a Netrunner build for my V in my fresh playthrough of Cyberpunk 2.0, and although it might sound like a laid-back playstyle, I must say it's quite thrilling! The Gris-Gris is a Tier 5/Iconic weapon that perfectly complements this playstyle, thanks to its unique Iconic trait: "Every hit has a chance to upload a random quickhack to an enemy" – it's immensely satisfying to use and undebatably a Netrunner's best friend!
That being said, acquiring this weapon involves following some very specific steps, and you might miss it if you're in a hurry to wrap up the main missions. To obtain the Gris-Gris in the Phantom Liberty expansion, you must do two things in order, so pay close attention:
1. Get Slider's Key in Treating Symptoms
Start the Gig: "Treating Symptoms," which is located south of the Dogtown arena.
Make your way through the building until you reach a room decorated with lion statues.
On your left, you'll spot a door – enter it and proceed left inside the room.
Here, on the desk, you'll find the "Slider's hideout storage room key" shard. Pick it up!
---
2. Find Gris-Gris in The Damned
Now, it's time to head to Slider's with Reed in the "The Damned" main job.
After the intense server room showdown and once you've cleared out any remaining hostiles, make your way to the second floor.
Look for a double door with graffiti featuring a suited skeleton.
Use the key you acquired earlier to unlock the door. Inside, you'll find your new Iconic Tech Revolver, the Gris-Gris, resting inside a briefcase on the table!
---
Gris-Gris Tech Revolver Stats in CP2077: Phantom Liberty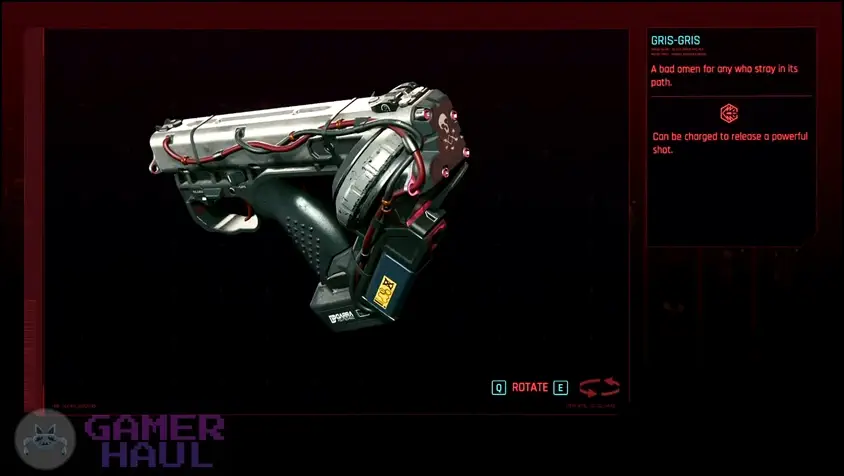 Here are the weapon stats for the Gris-Gris Tech Revolver in Phantom Liberty:
| Stat | Value |
| --- | --- |
| Tier | 5 / Iconic |
| Attack Speed | 5 |
| Damage | 54.76 |
| Reload Speed | 1.54 |
| Effective Range | 42 |
| Weapon Handling | 5.84 |
| Headshot Damage Multiplier | +150% |
| Armor Penetration | +50% |
| Charge Time | 0.75 sec |
| Iconic Trait | This weapon has been fused with Slider's cyberdeck. Each hit has a chance to upload a random quickhack to an enemy. The stronger the quickhack, the smaller the upload chance. |
---
Click here to check out our latest gaming guides!
There you have it – everything you need to know and do to make Gris-Gris, the powerful new Tech Revolver, your very own in Cyberpunk 2077: Phantom Liberty!
If you found this article helpful and informative, please share your thoughts in the comments below. Stay tuned to Gamer Haul for top-notch guides for all your favorite games!
---