MTZ BR Loadout MW3 – With guns like the Striker SMG nerfed ahead of the full launch, the Battle Rifle weapon class is already emerging as a strong contender in Call of Duty: Modern Warfare 3. The MTZ-762, alongside the BAS-B, is at the forefront of this BR meta.
In this guide, I'll walk you through the best MTZ 762 loadout and class setup, helping you unleash havoc on the battlefield!
---
Table of Contents
---
Best MTZ-762 Loadout in Modern Warfare 3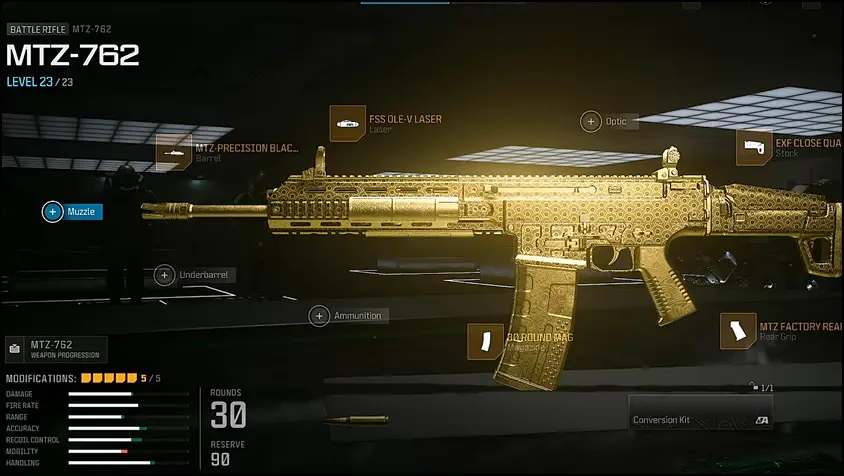 Battle Rifles pack a punch in damage and range but struggle with mobility and handling, coupled with high recoil. This loadout aims to optimize the MTZ-762 for MW3's fast-paced gameplay, improving readiness post-sprint and overall handling while mitigating recoil.
Here are my recommendations for the best attachments for your MTZ Battle Rifle in COD MW3:
| Attachment | Choice | Reason |
| --- | --- | --- |
| Muzzle | VT-7 Spiritfire Suppressor | Keeps you off the enemy radar while shooting. |
| Underbarrel | XRK Edge BW-4 Handstop | Enhances mobility and handling, providing faster ADS and strafing speed. |
| Optic | Slate Reflector | A clean and precise optic for improved aiming. |
| Rear Grip | MTZ Aggressor Grip | Boosts aim walking (strafing) and movement speed. |
| Stock | Bruen Archangel MK2 | Improves recoil and gun kick control, while also further increasing our movement and sprinting speed with the gun. |
---
Best MTZ-762 Class Setup in MW3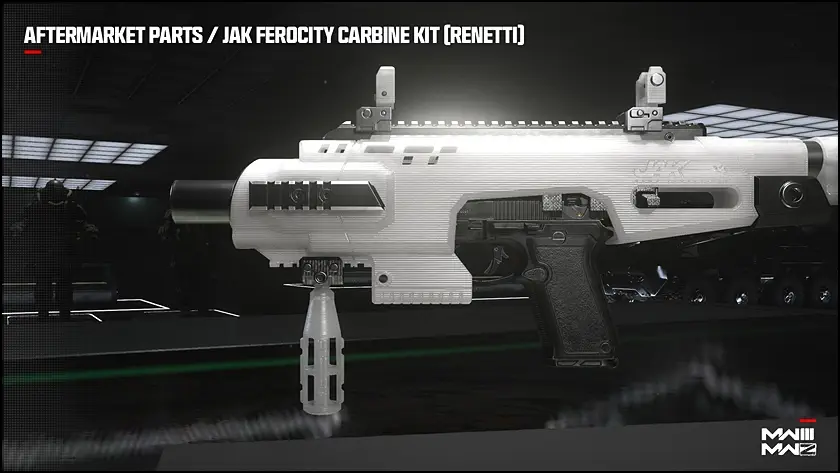 This class setup complements the MTZ-762 loadout for optimal performance:
| Equipment | Choice | Reason |
| --- | --- | --- |
| Secondary | Renetti | A reliable backup weapon that becomes even more potent with its aftermarket part. Highly recommend leveling up! |
| Vest | Engineer Vest | Mainly because it lets you carry an extra Gear into the match. |
| Tactical | Battle Rage | Enables quicker health regeneration and constant Tactical Sprint refreshes when activated. Helps tremendously in escaping sticky situations! |
| Field Equipment | A.C.S. | Deploy it on capturable objectives like hardpoint zones and control points to capture them without entering the zone yourself. |
| Gloves | Scavenger Gloves | Ensures you're always stocked on ammunition without needing to rely on a Munitions Box. |
| Boots | Lightweight Boots | Increases movement speed – plain, simple, and ever-effective! |
| Gear | EOD Padding | Personal preference – EOD Padding lets you shrug off damage from non-killstreak explosives and fire. |
| Gear | Bone Conduction Headset | Reduces combat noise and enhances your ability to detect enemy footsteps and gunshots, providing a game-changing advantage. |
With this MTZ-762 loadout and class setup, you'll be primed to dominate in Modern Warfare 3, securing those killstreaks with finesse. Good luck, soldier!
---
For more COD MW3 loadouts, click here!
---