Kyubi x-MOD2 Location – Cyberpunk 2077 boasts an impressive arsenal of special Iconic weapons, and this collection has gotten a whole lot more exciting with the release of the long-anticipated 2.0 update and the new Phantom Liberty expansion!
Among these thrilling additions is the Kyubi x-MOD2, an Iconic Assault Rifle that awaits you in the new Dogtown district. What makes this weapon unique is not a special perk or effect, but the freedom to customize it to your liking – mixing and matching various attachments to suit your style!
In this guide, I'll take you through the steps to acquire the Kyubi x-MOD2 Iconic Assault Rifle in Cyberpunk 2077: Phantom Liberty.
---
Kyubi x-MOD2 Iconic Assault Rifle Location in CP2077: Phantom Liberty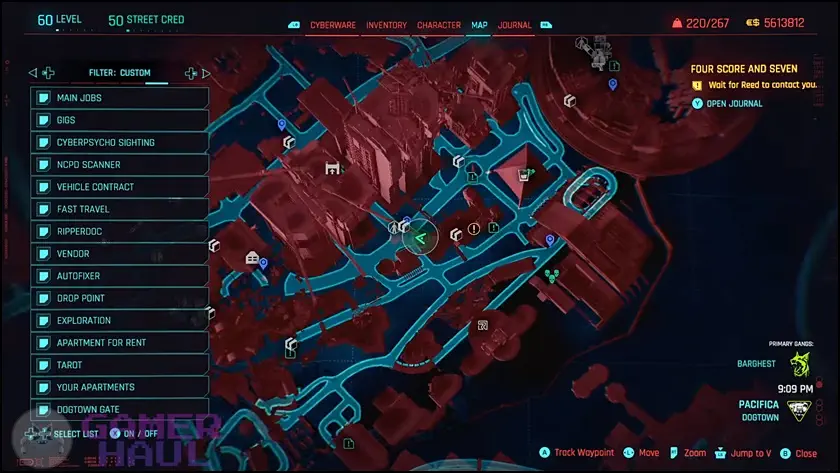 The Kyubi x-MOD2 is one of the few Tier 5/Iconic weapons in the game that isn't tied to a specific story mission or side gig. Given that you own Phantom Liberty, you can actually get your hands on it as soon as you complete the introductory mission and unlock access to Dogtown!
To obtain the Kyubi x-MOD2 in Cyberpunk 2077, follow these simple steps:
Fast travel to the Golden Pacific fast travel point (southwest of the EBM Petrochem Stadium).
Head to the pond located just across the street from the fast travel point.

Check the image above for the exact location of this pond!

Dive into the water and start swimming towards the bottom, right towards the center.
As you approach the bottom, where things start to get hazy due to the green smoke, activate your Scanner. This will highlight your target: the Kyubi Assault Rifle, waiting for you on a cement block that eerily anchors a dead body. Yes, it's a bit creepy.
Pick up the gun and ascend back to the surface before you drown!
---
Kyubi x-MOD2 Assault Rifle Stats in CP2077: Phantom Liberty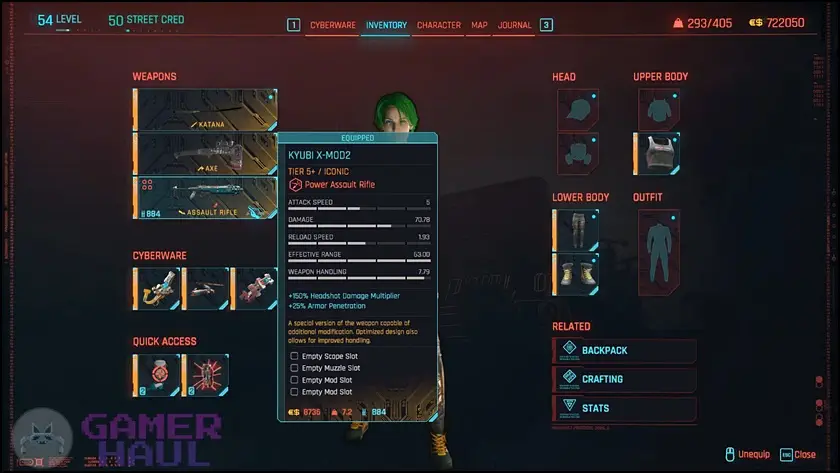 This weapon is the Iconic variant of the Tsunami Kyubi Power Assault Rifle. Here are the weapon stats for the Iconic Kyubi x-MOD2 Assault Rifle in Phantom Liberty:
| Stat | Value |
| --- | --- |
| Tier | 5 / Iconic |
| Attack Speed | 5 |
| Damage | 70.78 |
| Reload Speed | 1.93 |
| Effective Range | 63 |
| Weapon Handling | 7.79 |
| Headshot Damage Multiplier | +150% |
| Armor Penetration | +25% |
| Iconic Trait | A special version of the weapon capable of additional modification. Optimized design also allows for improved handling. |
| Attachments | Scope, Muzzle |
| Mod Slots | 2 |
---
Click here to check out our latest Cyberpunk guides!
There you have it – everything you need to know and do to make the Kyubi x-MOD2, the new Iconic Assault Rifle, your very own in Cyberpunk 2077: Phantom Liberty!
If you found this article helpful and informative, please share your thoughts in the comments below. Stay tuned to Gamer Haul for top-notch guides for all your favorite games!
---