Are you wondering how the Logitech G402 vs G502 compare to one another? These two gaming mice are very popular and are highly esteemed amongst all types of gamers, with 4.5-star ratings on online marketplaces like Amazon, Newegg, and more.

But which of these two models is better, and how do they stand out from the competition? On this page, we will compare the commonalities and differences and analyze and review each model to help you determine which is best for you.
So without further ado, let's begin!​
G402 vs G502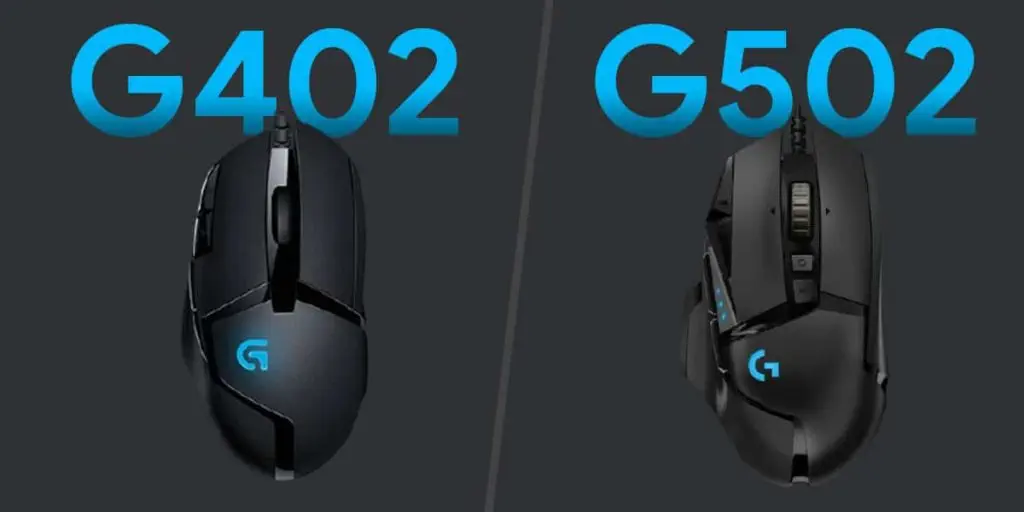 ---
Shared Features of the G402 and G502
Based on aesthetics alone, one might assume that the Logitech G402 and G502 are very similar gaming mice, but the truth is that these two models share very little in common. As far as shape and form are considered, they are nearly identical and provide comparable ergonomics.
It seems as if Logitech took their bestselling G402 mouse, updated it with an improved sensor and additional features, and then named it the G502.
But despite their picture-perfect similarities, the size, weight, and individual features differ, and which one is better depends entirely on you and what's important to you in a gaming mouse.
Let's take a look at some of the unique differences between them.
What are the differences between G402 vs G502?
Build Quality
The most noticeable difference between the G402 vs G502 is the widely varied quality. The Logitech G402 is more of a budget gaming mouse, and as they cut costs, they also compromised on features and higher-quality materials.
This is true in this case, where the G402 comes installed with the Delta Zero sensor – an older gaming sensor that, while still good, doesn't provide the level of tracking and surface customization that the PMW3366 sensor in the Logitech G502 provides.
And unlike the G502's durable braided cable, the Logitech G402 struggles with a thinner and stiffer cable that can add resistance if you don't have a cord bungee to keep it out of the way. And the button clicks feel softer and less crisp than on the G502, alluding to possible problems in the future with the buttons not registering clicks.
So as far as durability is concerned, the G502 wins by a landslide.
Custom Weight Tuning
One feature that sets apart the Logitech G502 from the G402 is a unique weight tuning system that allows you to change and reposition small weights on the bottom of the mouse to make it lighter or heavier or to shift the center of gravity until your mouse feels just right.
Alternatively, the Logitech G402 is one of the lightest gaming mice currently on the market and is even lighter than the G502 with all of its additional weights removed. This can be good or bad, depending on what kind of heft you expect.
If you want a simple, lightweight gaming mouse, the Logitech G402 is a good option. If you would rather be able to customize the weight of your mouse, then the G502 is better.
Ergonomics and Mouse Grip Types
As mentioned before, the shape and ergonomics of both mice are the same and geared towards right-handed players, but there are a few key differences.
First, the G402 is slightly longer than the G502, but it's also less comprehensive, so people with smaller hands may find it more comfortable to use. Reversely, people with larger hands will likely appreciate the bigger size of the G502.
The curve profiles of both mice are roughly the same, with the highest point being towards the back of the mouse and sloping towards the front rather than an even curve in the middle. This shape is generally best for those with a palm grip, but if you game with primarily a claw or fingertip grip, they should still work well.
Keeping these differences in mind will better help you choose between the G402 vs G502.
Let's check out a more comprehensive overview of both models.
---
Logitech G402 Hyperion Fury Gaming Mouse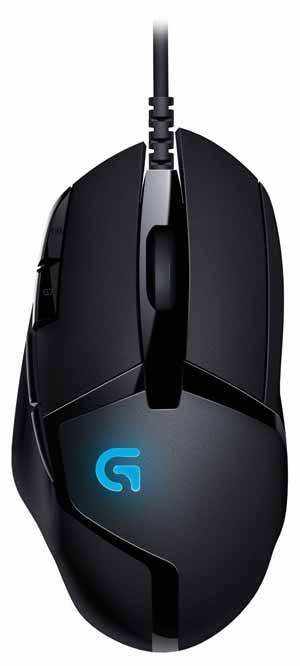 For many years, this model was considered one of the best FPS gaming mice on the market. Although it is now a bit outdated, and there are newer and better options available, the Logitech G402 Hyperion Fury is an excellent choice for gamers who want to improve their gameplay in FPS games like CS:GO, Overwatch, or Team Fortress.
This mouse is geared towards the FPS player who doesn't need a lot of bells and whistles or extra features to get their game on. If simplicity with the added benefit of speed and precision appeals to you most, then the G402 will suit you well.
Delta Zero Competitive Gaming Sensor and Fusion Engine
Delta Zero and Fusion Engine might sound like strange concepts from the future, but they are the features that make this mouse great!
While newer, more improved gaming sensors are out there, the Delta Zero sensor delivers on its promise: to provide you with reliable and accurate tracking as fast as 10 meters per second (420 ips).
And combined with the high-speed Fusion Engine, you'll get a super reliable 1ms report rate, making every move and action you input executed at the fastest speed possible over USB.
Programmable Buttons with Onboard Memory
The Logitech G402 has eight programmable buttons for binds and easy DPI switching. In addition, these settings can be saved to the onboard memory for easy accessibility. The onboard memory is one of the reasons this mouse was so popular amongst pro gamers in the past because it meant you could tailor it to your specific needs, disconnect it, plug it into another computer during tournaments, and still have access to the essential settings you need.
What about the size and best grip style?
As previously mentioned, the overall shape and ergonomics of the G402 Hyperion Fury are geared toward right-handed players.
This mouse is slightly longer but more narrow than the G502, so people with smaller hands may find this model more comfortable to work with, regardless of grip style.
That said, this mouse's natural curve profile and shape lends itself to most types of mouse grips, but those with a fingertip grip may find the position of the extra buttons awkward and uncomfortable to use. Palm and claw grips should be able to use this mouse comfortably.
Read more about Grip Styles here.
What type of gameplay is this mouse best suited towards?
Finally, the Logitech G402 Hyperion Fury gaming mouse is one of the best gaming mice for FPS players.
This mouse has enough programmable buttons for most types of games, though the placement of them may not be as convenient for MMOs or MOBAs. Even so, this mouse is ultimately a good choice for most genres, but FPS is where its performance will shine the most.
---
Logitech G502 Proteus Spectrum Mouse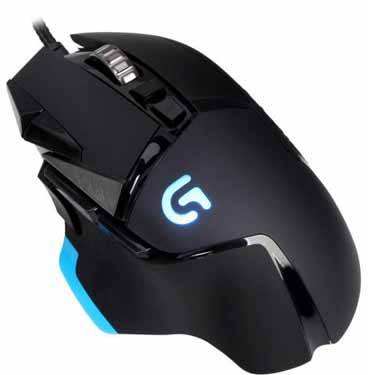 While the G402's strengths lie in its simplicity, the Logitech G502 Proteus Spectrum is the exact opposite. This model is considered one of the best gaming mice because of its many indispensable features. Logitech took all of the great things about the G402 and added onto them with highly desired features and the best gaming sensor you can get, and voila: the G502 was born.
Top of the Line PMW3366 Sensor
This is one of only a few Logitech mice with the exclusive PMW3366 optical sensor installed. This sensor is considered one of the most accurate gaming-grade sensors. Its reliability is unsurpassed – so much so that even pro gamers who rely on pinpoint accuracy and targeting vouch for it.  You can't beat that!
Adjustable Weight Tuning System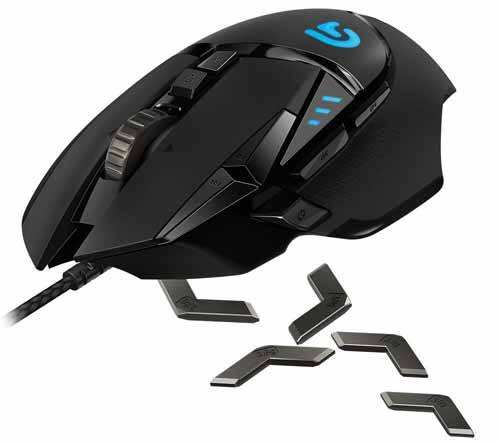 Unlike the lightweight G402, this mouse has a lot more heft to it, weighing in at 145 grams according to Tested.com.
And that's without additional weights!
That's right. Another feature this mouse has over the G402 is a weight-tuning system that allows you to tweak the feel of the mouse until it feels "just right."
Position up to five of the included 3.6-gram weights to provide additional weight if you desire a heavy mouse.
Custom Lights & Programmable Buttons
If you want a gaming mouse with lights, the G502 Proteus Spectrum has a full range of colored lights that you can tweak and configure to match your current gaming setup. Plus, with 11 fully programmable buttons and three onboard memory profiles, you can set it once and forget it.
A Right-Handed Mouse for Larger Hands
This model has a right-handed design that is slightly wider than the G402. Gamers with larger hands will probably find the G502 more comfortable. Those who use a claw or fingertip grip will appreciate the higher profile of the curve, though palm grippers will likely have no qualms with the shape and feel of this mouse either.
Gameplay Style?
Similarly to the G402, the G502 Proteus Spectrum was designed to cater to FPS gamer's needs the most, though others who play RTS or MOBA games will likely also find this a good option.
---
Which one is better: G402 vs. G502?
Whether the G402 vs. G502 is better depends on your gaming needs. They are both highly rated products that are popular amongst gamers – especially those who play competitive FPS games.
But which one is right depends on what you're looking for.
Do you want:
A good budget gaming mouse
A lightweight gaming mouse
Do you have small hands?
Do you use a palm or claw grip?
The Logitech G402 is a great choice!
Or maybe instead, you want:
The best optical gaming sensor
Weight tuning customization
Do you have larger hands?
Do you use a claw or fingertip grip?
If these options sound more appealing, the Logitech G502 is better for you.
Conclusion
Your mouse is your connection to your game. It's your weapon. The G402 vs G502 are two of Logitech's best gaming mice and are incredibly popular for various reasons, so understanding which one will meet your specific gaming needs is essential. You wouldn't go into battle without the right weapon, so pick the right mouse.

I hope this guide has helped you narrow your decision. Go ahead and check out the links on this page to read some reviews and see what you think, or if you've had an excellent experience with one of these mice, feel free to share your opinion in the comments below!