Especially for WoW, FFXIV, and More
There seem to be about as many options in gaming mice as there are MMOs – but not all are created equally! Whether you're a dedicated World of Warcraft player, prefer to roam around the lands of Eorzea in Final Fantasy XIV, or play something else entirely, you know single-handedly how important it is to have the best MMO gaming mouse with side buttons.
A mouse with buttons on the side is more than just a peripheral – it's your weapon in the game. It enables you to play your best and helps improve your overall performance. So if you want the best MMO gaming mouse to aid you in leveling up your gaming experience, keep reading.
Why choose an MMO gaming mouse? What's the difference between a gaming mouse vs regular mouse anyway? And what makes them so unique that gamers prefer them to a run-of-the-mill standard mouse you can get in any store?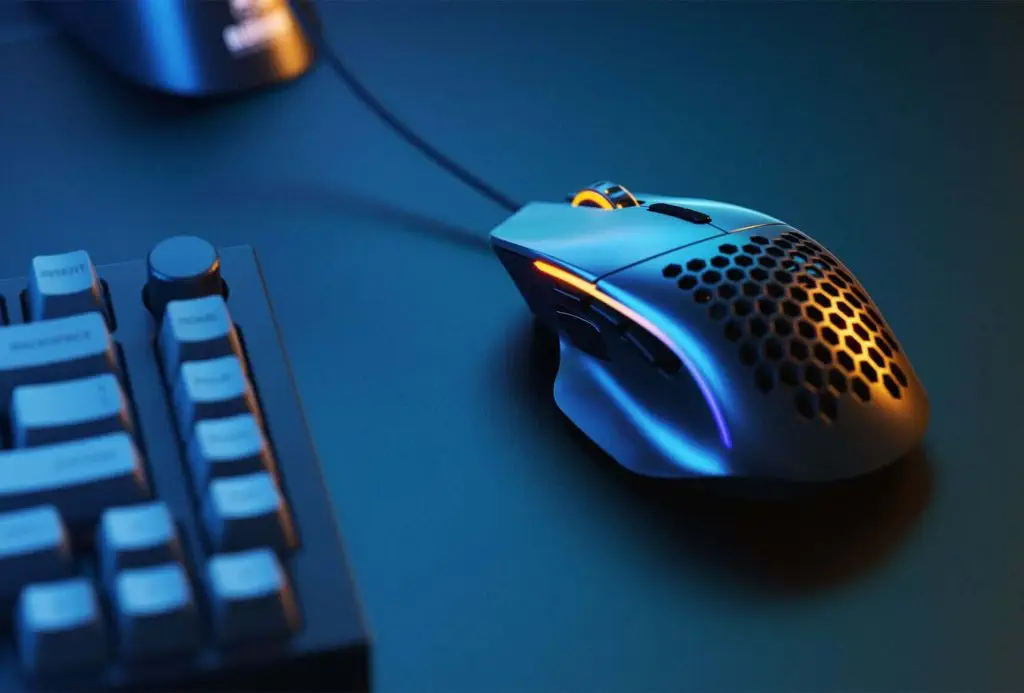 ---
Is an MMO Gaming Mouse Worth it?
A top MMO gaming mouse usually has buttons on the side, often in a 12-button grid pattern. These extra side buttons can be programmed to execute any skill, spell, macro, menu command, or function you want. This benefits MMO players because it frees up your non-dominant hand to utilize the navigation keys without sacrificing performance.
In addition, they can be programmed with a lot of versatility. You can set each button to activate different slots on your hotbars and then use the standard Ctrl, Alt, or Shift buttons. Or, if you're like me and have small hands, you can program the mouse buttons to Ctrl, Alt, and Shift and then use them with your standard keyboard commands instead.
It's up to you and what you find most natural, and this level of freedom is why many gamers prefer an MMO gaming mouse with side buttons rather than a basic desktop mouse.
---
How to Choose an MMO Gaming Mouse
There are so many different brands and models of gaming mice, but the best MMO gaming mouse for you will depend on a couple of things:
Are you right-handed, or do you need a left-handed MMO gaming mouse?​
What is your preferred type of mouse grip?
What is your hand size?
​If you are right-handed, many ergonomic models are catered to you. If you're left-handed, you'll want to look at ambidextrous shapes or gaming mice designed explicitly for left-handed play.
The shape of a mouse should also complement your preferred grip style.
If you palm the mouse, you will want the highest point of the mouse to be towards the center. This type of shape feels the most natural in the palm of your hand and gives you the most control.
Alternatively, if you use a claw grip, the best MMO gaming mouse for you would have the highest point be toward the back, with the curve sloping forward. This provides ​the base of the palm with a sturdy place to rest so that the tips of your fingers can fall into place naturally.
Lastly, if you use a fingertip grip or some hybrid style, look for the smallest, lightest gaming mouse with a lower profile. Slight, light mice will prevent fatigue, and lower height means the curve won't interfere with your mouse movements.
Size should be relative to your hand.
A mouse should feel like an extension of your hand. If your hands are smaller than average, you won't be comfortable wielding a behemoth of a mouse. If you're the opposite and smaller-sized mice cramp your style, you'll want to look for a gaming mouse for big hands instead.
What's the Best MMO Gaming Mouse with Side Buttons?
It's impossible to definitively say the best MMO gaming mouse because it depends on the criteria you desire. Since there is no one-size-fits-all option here, we'll look at a few of the top MMO gaming mice available and see how each caters to different needs.
---
Logitech G600: Best for MMOs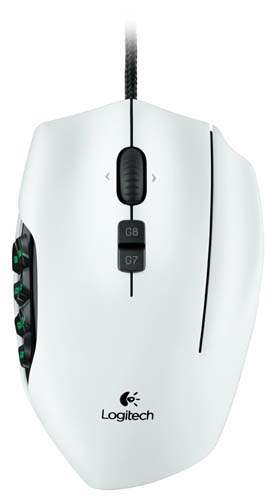 The Logitech G600 MMO gaming mouse is my top pick for a gaming mouse for MMO games of all types, simply because it is feature rich and aims to improve the quality of gameplay for both casual and hardcore gamers alike. Let's go into more depth on some of those features now.
Programmable Button Grid for Easy Accessibility to Skills
One of the biggest selling points of any MMO gaming mouse is having tons of programmable buttons, and this mouse gives you exactly that. It has the popular side grid with 12 buttons, but unlike some other models where the buttons lay flat, these are contoured so that you can easily identify which button you are pressing just by feel, without having to look away from the action on screen.
Plus, there are also two buttons below the scroll wheel, the scroll wheel click, left button click, right button click, and the G-shift button. So regardless of how busy your hotbars are, you will have easy access to your most used skills from whichever buttons you choose.
G-shift Button Doubles Your Actions
The feature that sets the G600 MMO gaming mouse apart from competing models is the included G-shift button design. The G-shift button sits on top of the mouse to the right of the right click button. When held, it doubles the amount of actions of any other button on the mouse. So your standard 12-button grid quickly turns into a 24-button grid.
This feature alone dramatically increases the number of skills and actions you can assign, freeing up your non-dominant hand to focus primarily on mobility.
Minimalistic Design with Custom Backlit Buttons
This is a no-nonsense mouse, right down to the design. It has a very simple, but elegant design, and you can choose between a black or white gaming mouse to match your gear. The buttons are backlit and can be customized to any color you want. Once set, you can save your preferred color and DPI preferences to the onboard memory.
The ergonomic design is for right-handed use, and the overall height and shape should complement all types of grip styles, but will feel the most natural with a palm grip.
What are the negatives?
First of all, this mouse is pretty hefty weighing in at around 133 grams. Some people prefer heavy gaming mice, but if you're not one of them and would rather have a lightweight gaming mouse, then this model may not be the best match for you.
Secondly, because this mouse uses a laser sensor, it's important to use it on a hard surface to ensure perfect tracking. Steer clear of cloth mouse pads and instead use something that provides a hard, micro-textured finish, like the Logitech G440 hard gaming mouse pad seen here.
Finally, the G600's design is catered towards right-handed players alone, so if you're left handed, you'll want to look for another model. See below for more info on the Razer Naga left handed MMO gaming mouse which is a nice alternative with similar features.
---
Logitech G602 Wireless Mouse with Side Buttons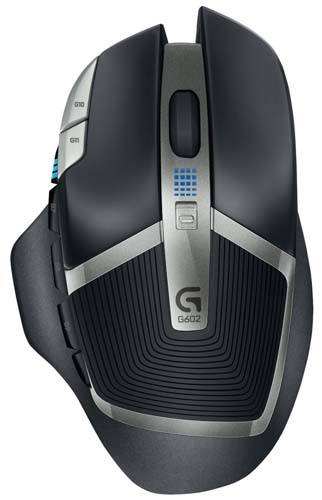 If you want the best MMO gaming mouse, but desire the option to play wirelessly, then a wireless mouse with side buttons will give you the best of both worlds. Although the Logitech G602 has less buttons and lacks the fancy customization of the G600, it makes up for those features with a lag free, wireless connection.
Gaming-grade Wireless Signal range up to 3 meters
In the past, most gamers wouldn't even consider using a wireless MMO mouse. Wireless options carried the stigma of being too unreliable for fast paced gameplay. Thankfully, wireless technology has improved a lot, and the updated tech in the G602 offers a generous 2 millisecond report rate.
Though there are faster options on the market today, this is one of only a few wireless models available that can compete with wired counterparts, and the only one that can pass as an MMO gaming mouse.
Dual Power Saving and Performance Modes
A good feature of the G602 wireless mouse with side buttons is that there are two swappable power modes: endurance and performance.

Endurance mode is a power-saving mode used while browsing the web, checking e-mails, and so on. The mouse doesn't require much power to perform simple tasks like these, so you can save energy when needed. You can get up to 1440 hours of battery life from this mode!

Once you're ready to game, swap to the performance mode to level up the power. In this mode, the mouse will reliably perform the way you expect it to – accurately and without lag. You can get up to 250 hours of gameplay in with this mode.
Good for the Multi-Genre Gamer
Logitech's G602 is kind of like an FPS mouse and MMO gaming mouse in one. Unlike a traditional MMO mouse, this model doesn't have the standard 12-button grid on the side. Instead, it positions two buttons just to the side of the left click button for easy access from the index finger.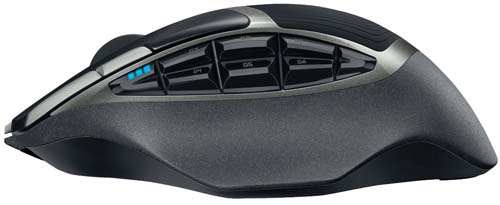 Inspect the left side, you have six programmable and the DPI adjustment buttons. These buttons are placed in a thin line at the top of the side, and each is relatively small and narrow compared to other MMO mice.
The position of the side grid makes it a good FPS gaming mouse in addition to MMOs. If you're a multi-genre gamer and enjoy taking down enemies in CS:GO as much as you do in World of Warcraft, then this is a good compromise!
What are the downsides?
Perhaps the biggest pitfall of the G602 wireless MMO gaming mouse is that it does not have a rechargeable battery. The mouse is powered by two AA batteries, and although the battery life is good thanks to the swappable power modes, you'll still be changing batteries pretty regularly depending on usage.
One possible solution is to use rechargeable AA batteries like these here. Or if you want a rechargeable wireless mouse instead, you could upgrade to the G700s model, but you'd sacrifice utility because it doesn't have as many side buttons.
That said, it's also worth considering the weight of the batteries and how they will impact the overall weight and feel of the mouse itself. If you like your MMO gaming mice to have some heft to them, then this won't faze you at all it may even be considered a good thing! But if you're on the opposite side of the spectrum and desire a lighter option, it's a good idea to look at some alternatives.
---
Razer Naga Chrome: For Left-Handed Gamers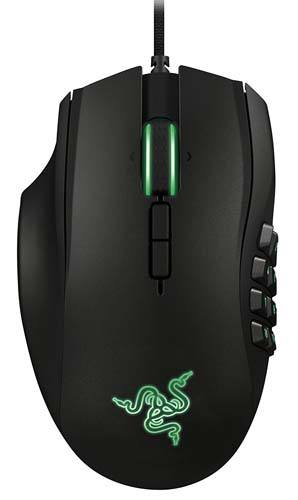 Finally! Here's one for my left-handed gamers and my personal favorite: the Razer Naga Chroma left-handed MMO gaming mouse. It has the utility you crave from programmable side buttons, as well as bonus features like custom colored lighting and a DPI range so wide; you won't know what to do with it all.
Mechanical 12-Button Side Panel for Quick Accessibility
This is my go-to mouse for MMOs because of the side button panel alone. It has 12 buttons on the right side of the mouse so that left-handed gamers can access them comfortably.

Each of the buttons is mechanical and delivers a tactile feel with every button press – similar to what you feel with mechanical keyboards.
Plus, the side panel is contoured so you can quickly identify what button you are pressing without having to look away from the screen. They can also be programmed for quick access to any ability or macro you choose.
Scroll Wheel is Multi-Directional
Besides the standard click, the scroll wheel on the Razer Naga Chroma also tilts left, right, up, down, and in, and each click counts as its button, so you can program even more actions into the wheel. Just in case the side buttons weren't enough.
Simple, Lightweight Design
The overall look and feel of the Razer Naga Chroma left-handed MMO gaming mouse are minimalistic. It has an elegant design and is ergonomically shaped to be comfortable in your dominant hand. Two versions are identical: one is for left-handed gamers, and the other is for right-handed, so you can pick whichever will work best for your needs.
The shape of the mouse is most comfortable for those with a palm grip, but there's enough of a curve and slope to claw it comfortably. Also, it is lightweight at 105 grams and keeps a low profile, so fingertip grippers should be able to use it without any issues.
Plus the buttons aren't just tactile, they are pretty! The buttons, scroll wheel, and the Razer logo on the back of the mouse all light up in your preferred color of choice.
What about the downsides?
This is more of a personal preference than anything, but this mouse runs a bit large. If you're in the targeted demographic, you'll probably be fine. But if you have dainty little hands as I do, it may feel awkward to use.
That said, this is the mouse I have used daily for the past two years to play Final Fantasy XIV, ESO, and other games. I have small hands and struggle to reach the bottom row of buttons on the side without adjusting my grip, but otherwise, it works great for me, and I think it will probably be comfortable for most people.
---
Havit HV-MS735: Cheapest Option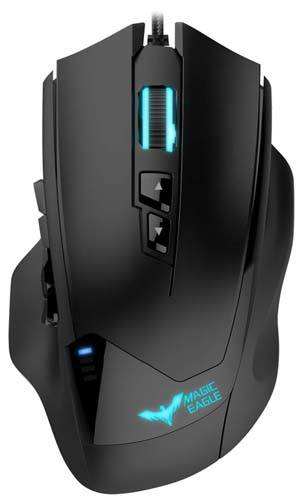 The last option here is a cheap MMO gaming mouse that shares most of the same features the above models have, but at a fraction of the price. If you're on a budget and need a decent gaming mouse with side buttons, the HAVIT HV-MS735 may be just what you've been looking for.
Top of the Line Optical Sensor with DPI up to 12000
One component that sets apart a top gaming mouse from a regular mouse is the sensor and DPI range. The HAVIT MMO gaming mouse has the Pixart PMW-3360 optical sensor, which is an older sensor but still gets the job done.
It offers seven on the fly DPI adjustments in increments up to 12000, polling rates between 250-1000 Hz, acceleration at 50G, and motion detection up to 250ips. 
I will say it's important to note that since it uses an optical sensor, you will need a proper mouse pad to ensure accurate tracking. Soft or hard mouse pads that are solid colored and free of busy patterns will work best for this mouse.
Programmable 12 Button Thumb Grid
This MMO gaming mouse also has the standard 12 buttons on the side of the mouse. Each of these can be programmed in the software to perform the actions you choose.
The shape of the mouse itself is pretty universal and should work well with palm and claw grips, but the profile may sit too high for a comfortable fingertip-style grip.​
It may be budget-friendly, but is it a good value or just "cheap"?
I think this mouse offers a lot of value for the cost. But like all other things in life, there are some pitfalls. 
The most glaringly obvious one is the software. HAVIT has made some improvements in its software and drivers over the past few years, but many users still have complaints about the software locking up and freezing their computers, random bugs causing assigned keybinds to get mixed up, and so on. Since the primary purpose of an MMO mouse is to accurately execute several actions in quick succession, problems with software can completely ruin the experience.
Furthermore, you don't have the level of customization you get with other gaming mice. While you can set the color for the scroll wheel, it doesn't set for the side keys – those will always be blue, which might not match the rest of your gaming setup.
And though you can shift between DPI levels, you can't set a custom amount like 2500 or 3000. You'd have to stick with either the 2000 setting or move up to the 4000 setting – there is no in-between. And the DPI increments start doubling from there up to 12000.
So yes, some drawbacks may be considered deal breakers to some, but overall, this is the best budget-friendly option for the gamer who wants a cheap MMO gaming mouse with side buttons and most of the features you can get in more expensive models.