Round Robin God Roll – Round Robin is the latest addition to Destiny 2's impressive and ever-expanding collection of weapons, introduced with the latest Lightfall expansion and Season 20: Season of Defiance. This 120 RPM Hand Cannon is not only the first of its kind that you can craft but also the first Strand HC in the game. Being a 120 comparable to the revered and most sought-after Igneous Hammer (Adept), it has quickly gained much popularity among PvP enthusiasts!
In this God Roll Guide, we'll explore the best perk combinations for Round Robin and tell you how to farm out its "red borders" to make it craftable as quickly as possible!
---
Round Robin – God Roll for PvP
| | | |
| --- | --- | --- |
| Barrel: | Fluted Barrel | +5 Stability and +15 Handling. |
| Magazine: | Ricochet Rounds | +10 Stability and +5 Range. |
| Trait #1: | Keep Away (Enhanced) | Keep Away is better than Killing Wind in terms of consistency, especially for a 120 RPM Hand Cannon such as this. It rewards you for simply playing in your range (>15m from an enemy). |
| Trait #2: | Kill Clip (Enhanced) | Reloading after scoring a kill grants 25% increased damage. This takes our "sledgehammer" hand cannon's precision damage from 80 to 100 and means that you can potentially 2-tap your targets. |
| Masterwork: | Range/Stability | +10 Range or +10 Stability. |
| Mod: | Targeting Adjuster | +5 Aim Assistance. |
The Round Robin is a highly hard-hitting weapon in Destiny 2 PvP, and it is so very satisfying to chain kills with it! However, if you're used to using 140 RPM Hand Cannons like myself, you may find it has a bit of a kick along with an intrinsically higher range and an excruciatingly slow reload speed. This is why I decided to prioritize Stability first and Range second when crafting my Round Robin. Additionally, the Keep Away perk in the third column solves the reload speed problem since it's quite easy to proc before hitting the 'R' key!
---
Round Robin – God Roll for PvE
| | | |
| --- | --- | --- |
| Barrel: | Fluted Barrel | +5 Stability and +15 Handling. |
| Magazine: | Appended Mag | +2 Magazine Size. |
| Trait #1: | Keep Away | Free +10 Range and +30 Reload Speed when no enemies are within a 15m radius. And since you're using a hand cannon, you can easily keep that distance from your targets. |
| Trait #2: | Hatchling | A highly potent ad-clearing perk, especially when running a Strand subclass with suitable fragments to buff your Threadlings. |
| Masterwork: | Reload Speed | +10 Reload Speed. |
| Mod: | Backup Mag | +5 Magazine Size. |
If you're a fan of Hand Cannons and looking for a weapon that complements your "OP Strand Build" in PvE, the Round Robin is currently your best and only option. With its in-built high precision damage and accuracy, you'll be generating threadlings left and right thanks to the Hatchling perk in the fourth column. And to make it even more effective in PvE content, opt for Appended Mag and the Backup Mag weapon mod to boost the magazine size from 8 to 15.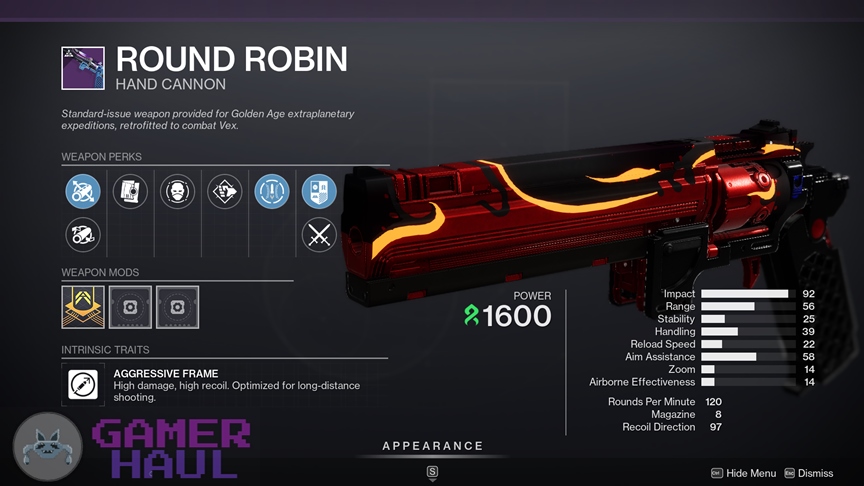 ---
How to Get & Craft Round Robin in Destiny 2
The Round Robin is a Neomuna-exclusive Hand Cannon, and so technically, you have a chance of acquiring its Deepsight Resonant (or red border) version by completing any activity in the newest destination. You'll need five such red borders to complete the Deepsight Resonance extraction and unlock it for crafting at The Enclave in Savathun's Throne World.
Currently, the most efficient way to farm Neomuna weapons, including the Round Robin, is by completing Heroic Patrols. These have the highest chances of rewarding you with a Deepsight Resonant weapon compared to other activities in the destination, and here's how you can farm it:
First, select Neptune from the Destinations tab and load into the 'Terminal Overload' public event.
After spawning, press the 'Deploy Ghost' button (TAB on the keyboard) and look for the Gold Patrol icon in the area. If you find one, travel to the waypoint, start the patrol, and complete it.
If you don't see a Heroic Patrol in that instance, go into your Map and select the Terminal Overload event again to load into a different instance.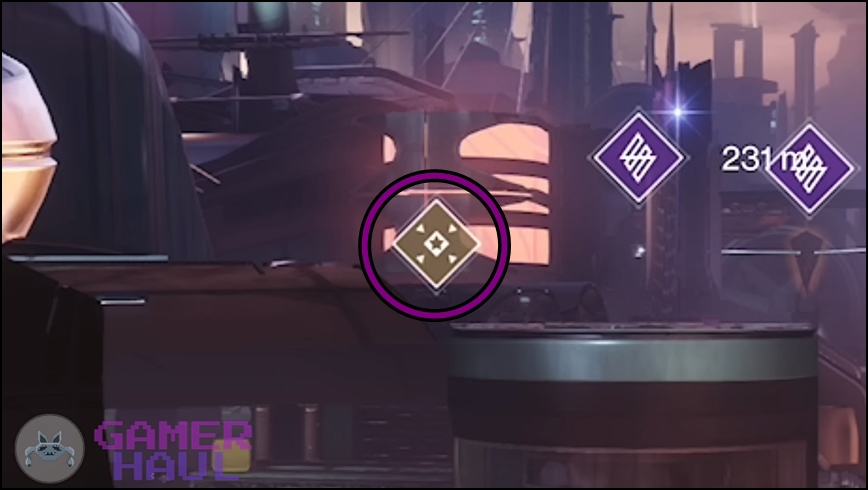 You'll need to repeat these steps until you come across a Heroic Patrol, complete it, and start looking for one again. You can even team up with friends to search for the patrol separately, and once someone finds it, everyone can load into their instance and complete it together. While this farm can be repetitive and very, very tedious, it's definitely worth it!
---
Click here to check out our latest Destiny 2 guides!
That is everything you need to know about how to get the Round Robin in Destiny 2 and its god-roll perks. Leave a comment if this guide helped, and stay tuned to Gamer Haul for more!
---