Get Regal Tiger Minecraft Legends – Mounts play a significant role in open-world games, and Minecraft Legends is no exception. In this game, you'll find yourself riding mounts more often than not, as sprinting is boring the world is vast, and there are numerous places to explore with more loot to discover! Moreover, each mount in Minecraft Legends offers unique abilities that can prove helpful in your journey, such as avoiding fall damage or even scaling vertical structures.
Currently, there are four mounts in Minecraft Legends; the first one being the Minecraft classic, Horse – which is unlocked from the get-go. Big Beak, Brilliant Beetle, and Regal Tiger are the other three mounts that you need to unlock one by one. In this article, we'll focus on where to find and how to get the Regal Tiger mount!
Related: How to Get Prismarine Easily in Minecraft Legends
---
Minecraft Legends: Regal Tiger Mount Location and How to Unlock
The Regal Tiger is the fastest mount in the game, enabling you to cover large distances and get from point A to point B faster than the other three! Here's how to acquire the big cat in Minecraft Legends:
Locate the Dry Savanna biome.

The Regal Tiger can be found in the Dry Savana biome, one of the closest biomes to the starting point of the game, Fatelands.

Investigate the points of interest.

Once you arrive at the location, investigate the points of interest marked by "???" icons, and you'll eventually find the big cats' home. The Regal Tigers are easy to spot due to their distinctive appearance, and there are usually a few in one location.

Unlock the mount.

When you find the Regal Tiger, approach it, and hold the 'Q' key on your keyboard ('O' for PlayStation/ 'X' for Xbox) to 'Swap Mount.' This action will unlock the Regal Tiger as a rideable mount. Once you've acquired this big cat in Minecraft Legends, it will appear near villages around the map, making it easy to find your Regal Tiger in the future!
Congratulations on unlocking the fastest (and the cutest) cat in the game!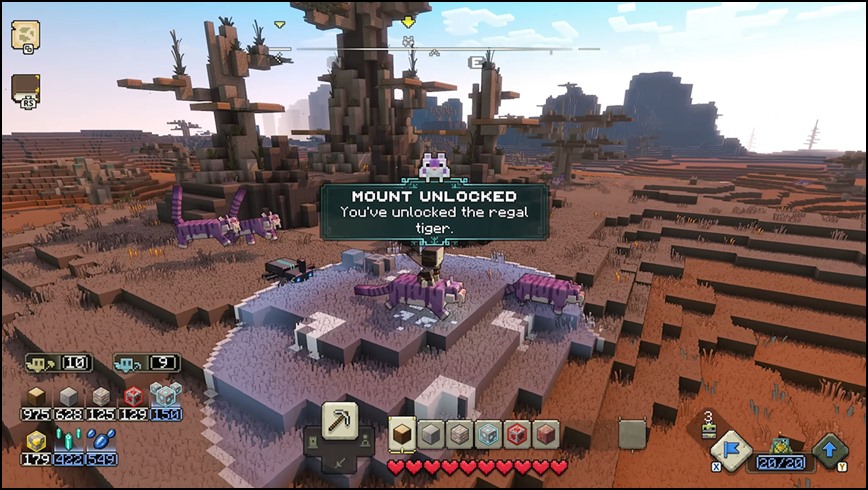 ---
Click here to check out our latest Minecraft Legends guides!
That's everything you need to know about where to find and how to unlock the Regal Tiger mount in Minecraft Legends. If you liked this article and found it helpful, let us know in the comments below. And remember to keep an eye on Gamer Haul for the latest updates and best guides for your favorite games!
---