Next Genshin Banner – Genshin Impact is a popular action role-playing game with a unique "gacha" system that allows players to collect characters and weapons through a series of in-game banners. These banners rotate every two weeks or so and feature powerful characters and weapons to join your team and expand your collection with.
If you're a dedicated Genshin Impact player, you'll want to stay up to date with the latest banner releases. In this Gamer Haul article, we'll discuss the next Genshin Impact banner release date and what the featured characters and weapons are; so you know what to expect!
Read: Genshin Impact 3.6 Details: Release Date, Banners, Artifacts, and More
---
Genshin Impact 3.6: Next Character and Weapon Banners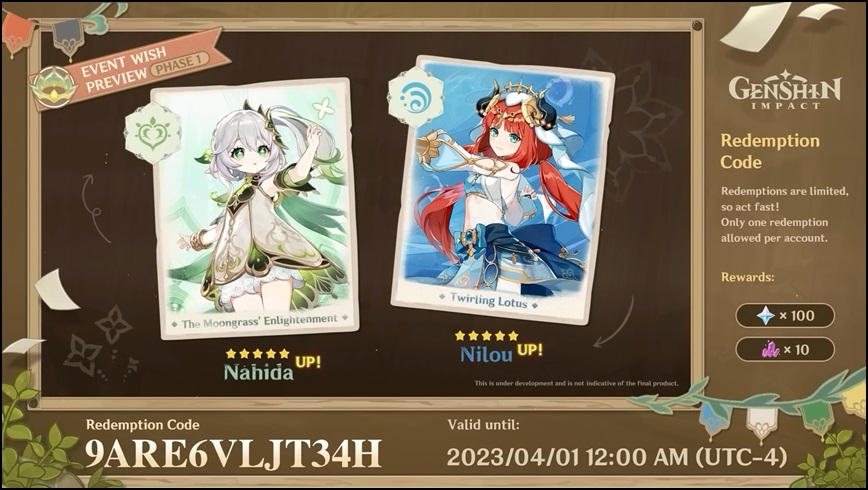 The next Genshin Impact banner will feature Nahida and Nilou as the "rate up" characters. Both characters are five-stars, with Nahida being a Dendro user and Nilou being a Hydro user. This banner is set to arrive on April 12, 2023, alongside the Genshin Impact 3.6 update. It's important to note that while Nahida and Nilou are the featured characters, the banner will also include other four-star characters that have yet to be confirmed.
As always, there will also be a dedicated weapon banner alongside the character banner. The two featured weapons are A Thousand Floating Dreams, Nahida's signature five-star catalyst, and Key of Khaj-Nisut, Nilou's signature five-star sword.
This information is officially confirmed and was revealed during HoYoverse's "Special Program" live stream on Twitch and Youtube last Friday. The stream also gave us a glimpse of all the future character and weapon banners for phases one and two of version 3.6, and I suggest giving it a watch if you haven't already!
---
Click here to check out our latest gaming guides!
Be sure to mark your calendars and prepare for the new banner, and don't forget to keep an eye on Gamer Haul for the latest updates on your favorite games!
---