Hogwarts Legacy is set to release Friday next week, with early access going live as early as Tuesday for Deluxe Edition holders. It goes without saying that excitement for this magical new action RPG is at an all-time high, and the developers at Avalanche have already confirmed that it will be a classic, completely offline single-player experience. This means that while you'll need to connect to the internet to obtain patches and updates, you won't need to stay connected during gameplay.
But what if you wanted to share your copy of Hogwarts Legacy with friends or family? Or maybe your friend has already pre-ordered the game, and you want to try it out before buying it yourself. Well, if you're on PC, we have some good news! Here's what we know about Steam Family Sharing for Hogwarts Legacy and how you can play the game using this feature.
---
Does Hogwarts Legacy Allow Family Sharing?
Yes! WB Games Support confirmed in a tweet reply that Hogwarts Legacy does support family sharing through Steam. If you can borrow a Deluxe Edition copy from someone, you can even play the game during the early access period.
While a pre-load option won't be available, you can download and start playing the game on February 7 by using the 'Family Library Sharing' feature on Steam – given that someone has given you access to their Steam Library and owns a Deluxe Edition copy of Hogwarts Legacy.
---
WB Games Support confirms Steam Family Sharing support in Hogwarts Legacy!
---
How to Play Hogwarts Legacy Using Steam Family Sharing Feature
To play Hogwarts Legacy by borrowing it from a friend or family member's Steam Library, they'll first need to authorize Library sharing on your PC. Here's how that's done:
STEP 1: On your PC, click on Steam > Change Account… and have them log in to their account.
STEP 2: In the top left corner, click on Steam > Settings.
STEP 3: In the Family tab, enable the Authorize Library Sharing on this computer option.
STEP 4: Find your account from the list of Eligible Accounts and click on the Share button beside it.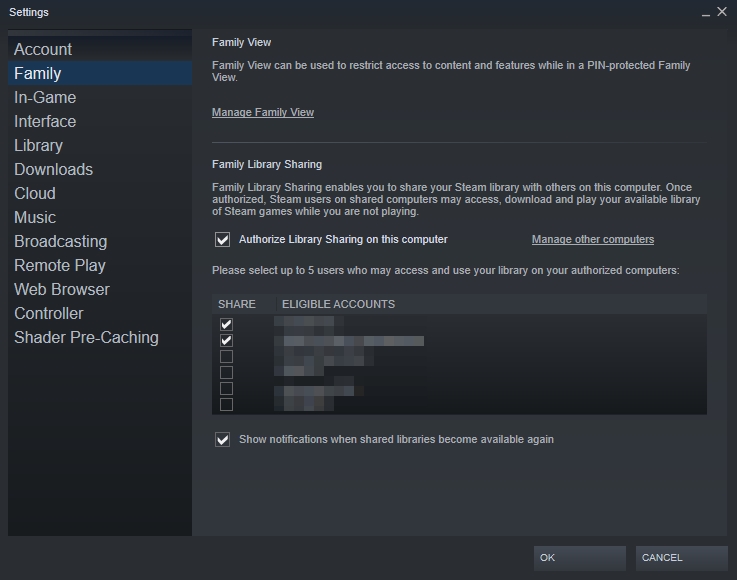 Note: The person you're borrowing from needs to have Steam Guard enabled on their account.
If you've followed the above steps correctly, you'll find Hogwarts Legacy in your Library after logging into your account. You can right-click on the game from there and click on the 'Install' button once the download option is available on February 7. To avoid being booted out if your friend attempts to play the game at the same time as you, go offline after launching it!
---
Read Next: All Confirmed Hogwarts Legacy Spells and Types
Let us know if this guide helped you by leaving a comment below!
Hogwarts Legacy is available for pre-order now and is scheduled for release on February 10, 2023, on PlayStation 5, Xbox Series X|S, and PC; April 4, 2023, on PlayStation 4 and Xbox One; and July 25, 2023, on Nintendo Switch.