With Hogwarts Legacy only a few days away, every aspiring Wizard and Witch is donning their robes and wielding their wands, ready to soar into the magical realm of witchcraft and wizardry riding their brooms. But did you know that by becoming a Harry Potter Fan Club member and finishing some tasks, you may already claim some exclusive rewards in the game?
This is how you go about doing it!
---
How to Unlock Exclusive Rewards in Hogwarts Legacy
Whether you are a classic Harry Potter Fanclub member or a newcomer to the world of magic, Hogwarts Legacy has two exclusive in-game (cosmetic) rewards to offer for linking your Wizarding World account to WB Games:
'House fan-atic School Robe' and
'Beaked Skull Mask.'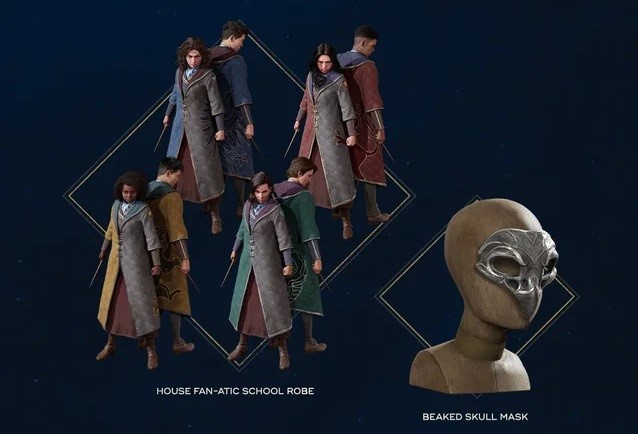 Wizarding World, formerly 'Pottermore,' is the official home of the Harry Potter and Fantastic Beasts series, as well as the new Hogwarts Legacy game. You may discover everything you need to know about every Hogwarts House, character, magical beast, and more by accessing a complete library of information on J. K. Rowling's beautifully built universe and lore right here! Wizarding World also includes several quizzes and puzzles for fans to test their knowledge of the series. Without further ado, here are the steps you need to follow to receive your exclusive Hogwarts Legacy rewards:
STEP 1: Create and log in to your Wizarding World account.
STEP 2: Get sorted into a House and get your Wand by taking the respective quizzes.
Read: How to Get the Elder Wand in Hogwarts Legacy
STEP 3: Log in to your WB Games Account and visit the 'Connections' page.
STEP 4: Click on the 'Connect' button beside 'Harry Potter Fan Club.'
STEP 5: Click on the link and confirm the connection.
You're sorted! If you have followed all the steps correctly, you should be able to discover your rewards and equip them in your character's wardrobe when you start playing the game. Your Hogwarts house and wand will also carry over to the game if you choose to keep them.
Remember that if you have pre-ordered the Deluxe Edition, Hogwarts Legacy early access begins on Tuesday, January 7th!
---
Leave a comment and let us know if this guide helped you claim your rewards in Hogwarts Legacy!
Hogwarts Legacy is available for pre-order now and is scheduled for release on February 10, 2023 (early access: February 7), on PlayStation 5, Xbox Series X|S, and PC; April 4, 2023, on PlayStation 4 and Xbox One; and July 25, 2023, on Nintendo Switch.