Autumn Wind God Roll D2 – The Autumn Wind is a 540 RPM Kinetic Pulse Rifle introduced in Destiny 2 with Season 20: Season of Defiance after getting "sunset" back in Season 12. It features a huge perk pool with plenty of different options to try and powerful combinations for both PvP and PvE activities.
In this god roll guide, we'll cover the Autumn Wind's god roll perks for PvE and PvP and tell you how you can start farming the new pulse rifle in Destiny 2.
---
Autumn Wind – God Roll for PvP (Crucible, Iron Banner & Trials of Osiris)
Below are my personal recommendations for the PvP God Roll perks on the Autumn Wind:
| | | |
| --- | --- | --- |
| Barrel: | Smallbore | +7 Range and +7 Stability. |
| Magazine: | Ricochet Rounds | +5 Range and +10 Stability. |
| Trait #1: | Rangefinder | Grants a free +10% boost to the gun's Range and increases the zoom magnification when aiming down sights. |
| Trait #2: | Headseeker | Increases the weapon's precision damage multiplier along with more aim assist after hitting a body shot. |
| Masterwork: | Range | +10 Range. |
| Mod: | Counterbalance Stock | Helps make the Recoil more predictable and reduces its bounce intensity. |
Whether you like 540 Pulse Rifles or not, I highly recommend giving the Autumn Wind a chance. Even with an average roll, the weapon feels very solid and reliable to use, and I found myself getting kill streaks in Iron Banner more frequently with it than any other weapon (farewell, Piece of Mind!).
One of the things I love about this gun is its sleek-looking scope, which I think is the best I've seen on any Pulse Rifle. When you're not aiming down sights, it even retracts back in! The perks in the table above strike a good balance between Stability and Range, which gives the gun a solid edge in one-on-one encounters at short to medium ranges. Say goodbye to losing those 1v1 fights forever!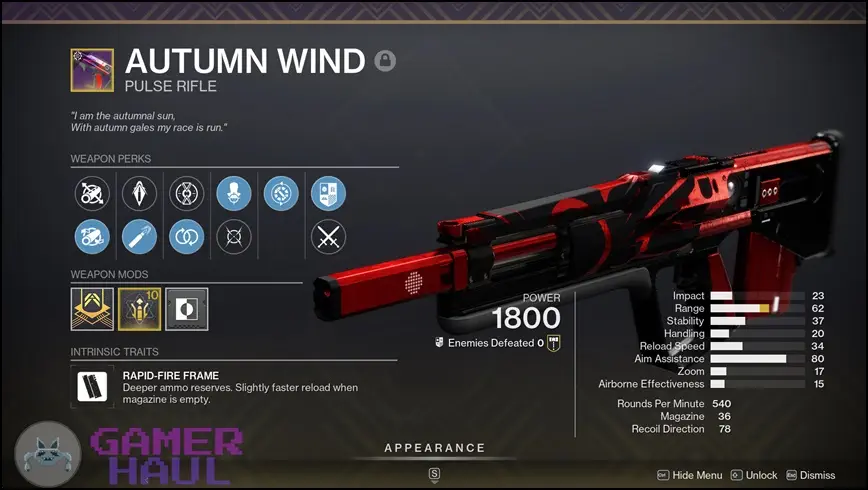 ---
Autumn Wind – God Roll for PvE (Strikes, Dungeons & Raids)
Below are my personal recommendations for the PvP God Roll perks on the Autumn Wind:
| | | |
| --- | --- | --- |
| Barrel: | Hammer-Forged Rifling | +10 Range. |
| Magazine: | Armor-Piercing Rounds | +5 Range and 5% increased damage to combatants' shields in PvE. Also helps stun Barrier Champions a bit faster! |
| Trait #1: | Slideways / Demolitionist | Slideways reloads a portion of the magazine and temporarily boosts the gun's Handling and Stability each time you sprint and slide. Demolitionist is the way to go for any 'grenade-spam' builds (like Starfire Warlock), as it generates grenade energy with every final blow and fully reloads the gun every time you throw your grenade. |
| Trait #2: | Rampage / Adrenaline Junkie | Rampage grants a stacking damage bonus (10% / 21% / 33%) with every final blow using the weapon – which also refreshes with every other kill. Adrenaline Junkie is a solid perk if you are running a grenade-spam build, as it instantly grants a 33% damage boost with a single grenade kill! |
| Masterwork: | Reload Speed | +10 Reload Speed |
| Mod: | Major Spec | Extra damage to Majors. This includes Champions. |
For a weapon that is so good in PvP, it is surprising how packed the Autumn Wind is for PvE too! It features a HUGE perk pool, and there are plenty of good options available. Pulse Rifles remain the top choice for stunning Anti-Barrier Champions, just as they were in Season 19, provided that the Artifact Mod is unlocked. And don't forget that Kinetic Weapons have received a buff with Lightfall and are more potent now than ever before.
---
How to Get Autumn Wind in Destiny 2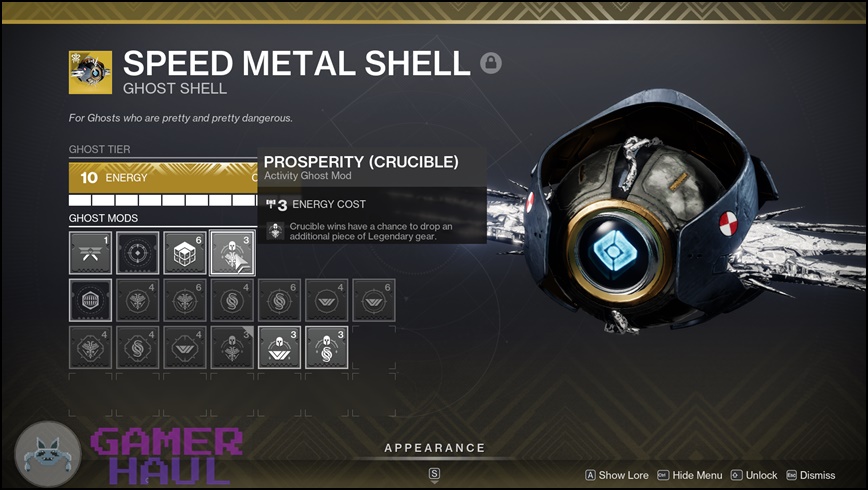 The Autumn Wind is a PvP-exclusive weapon that you can farm by playing and completing matches in any Crucible playlist and by opening rank-up packages from Lord Shaxx at the Tower. This includes Trials of Osiris and Iron Banner, and although I'm yet to get a god roll drop, I've seen it dropping almost every match – so it's not very rare, either.
#Pro Tip: Make sure to equip the 'Prosperity (Crucible)' Mod on your Ghost whenever you're playing PvP. With this mod, you can potentially get two Autumn Winds drops when you win a match!
---
Click here to check out our latest Destiny 2 guides!
That is everything you need to know about how to get the Autumn Wind Pulse Rifle in Destiny 2 and its god-roll perks. Leave a comment if this guide helped, and stay tuned to Gamer Haul for more!
---