The launch of Lightfall and Season 20: Season of Defiance in Destiny 2 has dropped a ton of new and exciting content to keep players hooked for months. Among the changes and new features are a whole new subclass complete with a new loadout system, a range of new Exotic armor and weapons, and an overhaul to the armor modding system. And let's not forget about the unique arsenal of Legendary armaments added to the mix this season!
One of these weapons is the Perpetualis, a 600 RPM Strand Auto Rifle perfect for clearing out ads and dealing sustained DPS. It can roll (and be crafted) with the new weapon perks introduced in Lightfall and is both fun and efficient to use – no matter which game mode you prefer. In this guide, we'll help you figure out the best perk combinations for the Perpetualis in both PvE and PvP activities and share some tips on how to unlock its craftable version!
---
Perpetualis Auto Rifle God Roll for PvE
| | | |
| --- | --- | --- |
| Barrel: | Smallbore | +7 Range and +7 Stability. |
| Magazine: | Flared Magwell | +15 Reload Speed and +5 Stability. |
| Trait #1: | Keep Away | The more consistent option over Envious Assassin, as it doesn't require you to get final blows with another weapon. It effectively maxes out your Reload Speed and is easy to proc and maintain. |
| Trait #2: | Hatchling | A super fun and highly efficient perk that takes the Auto Rifle's ad-clearing potential to the next level. With enough ads in the room, you'll constantly be spawning Threadlings with precision final blows. |
| Masterwork: | Range/Stability | You don't need to bother about the Reload Speed since it is already at the max [100]. |
| Mod: | Minor Spec | For that extra damage against weaker enemies. |
Note: Crafting Enhanced versions of these perks is entirely up to you and your resource availability.
Your primary focus with a Primary ammo weapon is ad clear, and with the above perks, the Perpetualis gets it done exceptionally well. Being an Auto Rifle that fires at the same RPM as the new Synchronic Roulette SMG but has more range and is craftable, it's your go-to weapon if you want to run a Legendary rarity Strand Primary. Also, if you like running the Threadling Warlock build, a gun with the Hatchling perk is a must-have!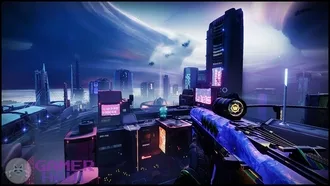 ---
Perpetualis Auto Rifle God Roll for PvP
| | | |
| --- | --- | --- |
| Barrel: | Corkscrew Rifling | It provides a balanced +5 boost to the important Range, Stability, and Handling stats. |
| Magazine: | Accurized Rounds | +10 Range, plain and simple but highly effective. |
| Trait #1: | Keep Away | When there is no enemy within 15 meters of you, the weapon gains gain +10 range, +30 reload speed, and increased accuracy. It's effortless to consistently proc this perk because, with an Auto Rifle, you'll be trying to keep your opponents at medium range anyway. |
| Trait #2: | Eye of the Storm | Another perk picked with consistency in mind. Paired with our 1st trait, you're looking at a ~40% increase in accuracy when you're under 156 HP. |
| Masterwork: | Range | With Corkscrew, Accurized, and Keep Away active, your Range will be 78 with a Range Masterwork. |
| Mod: | Counterbalance Stock/Targeting Adjuster | Counterbalance Stock for countering the overall kick (recoil) of the Auto Rifle and Targeting Adjuster for even more aim assistance. |
Note: Crafting Enhanced versions of these perks is entirely up to you and your resource availability.
If you are a Destiny 2 PvP player who despises the Pulse Rifle meta and want to try something new, try Auto Rifles. Perpetualis is a good option since you can craft it with the enhanced god roll perks if you like how it feels to use in Crucible or Trials. Personally, I'm not a fan of Auto Rifles in PvP, and I think I'll stick to my reliable Austringer + Harsh Language combo for now!
---
How to Get Perpetualis in Destiny 2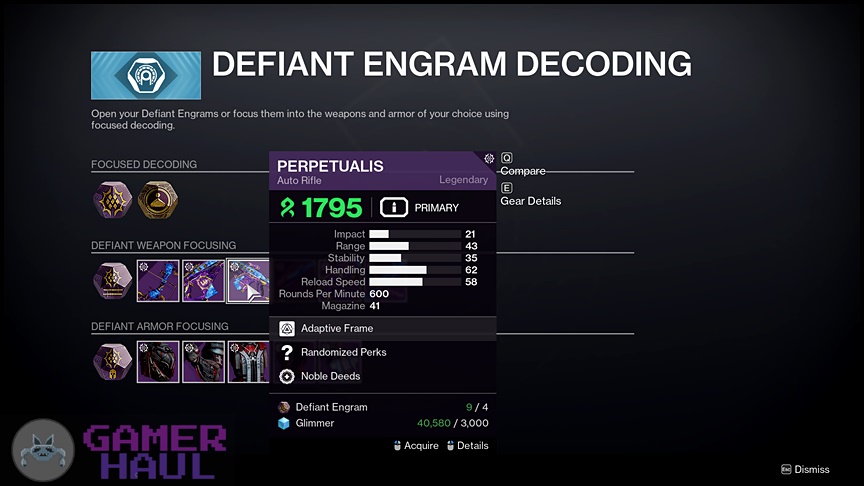 The Perpetualis is a craftable Season of the Defiance weapon, and you'll need to extract five patterns (Deepsight Resonance) to unlock it for shaping at The Enclave. Since it is a seasonal weapon, there are essentially four ways to farm for its 'red borders':
Completing the quest steps for the Seasonal Quest, We Stand Unbroken.
Completing missions in the Defiant Battlegrounds playlist in the H.E.L.M.
Decoding Defiant Engrams at the War Table in the H.E.L.M.
Focusing it after unlocking the 'Defiant Weapon Focusing' upgrade for the War Table.
---
Click here to check out our latest Destiny 2 guides!
That is everything you need to know about how to get the new Perpetualis Strand Auto Rifle in Destiny 2 and its god-roll perks. Leave a comment if this guide helped, and stay tuned to Gamer Haul for more!
Destiny 2: Lightfall is available now for PC, PS4, PS5, Xbox One, and Xbox Series X|S.