The Lightfall and Season 20: Season of Defiance updates have brought a plethora of new and exciting weapons to Destiny 2. These weapons include both craftable and non-craftable options, each with its own set of unique perks to chase.
In this article, we'll discuss the best perk combinations for the Regnant, one of the most impressive (craftable!) grenade launchers – both by looks and performance – added this season!
---
Regnant Grenade Launcher God Roll for PvE
| | | |
| --- | --- | --- |
| Barrel: | Smart Drift Control | Since Explosive Light maxes out our GL's Blast Radius and Auto-Loading Holster removes the need for manual reload, Smart Drift is the best-in-slot here as it increases Velocity and Handling while also reducing the overall kick of the weapon. |
| Magazine: | Spike Grenades | Like Impact Casing for Rocket Launchers, Spike Grenades increases the impact damage of your grenades – resulting in more significant total damage. |
| Trait #1: | Auto-Loading Holster | Automatically reloads the weapon after you holster it. This perk is vital in any boss damage phase, as you can launch all the grenades at the boss before quickly switching to your hardest-hitting Special weapon, firing a few shots and switching back to create the best damage rotations. |
| Trait #2: | Explosive Light | The best-in-slot perk for maximum damage – increasing the total damage to upwards of +52%! Since every ability in the game now rotates around Orbs of Power, you will also have no trouble consistently proccing it. |
| Masterwork: | Velocity | +10 Velocity. |
| Mod: | Boss Spec | For even more damage against Boss enemies. |
Note: Crafting Enhanced versions of these perks, especially EL, is highly recommended!
The Regnant is why you should never feel the "fear of missing out" (FOMO, as termed by the community) in an MMORPG like Destiny 2. In the final week of Season 19, everyone (myself included) grinded their hearts out in the Grandmaster Nightfall activity in the Prison of Elders to get the best rolls on the massively hyped Wendigo GL3 (Adept). But little did we know that the next season would bring us something even better – the Regnant! This grenade launcher is the Void version of the Wendigo and the best part? It's craftable!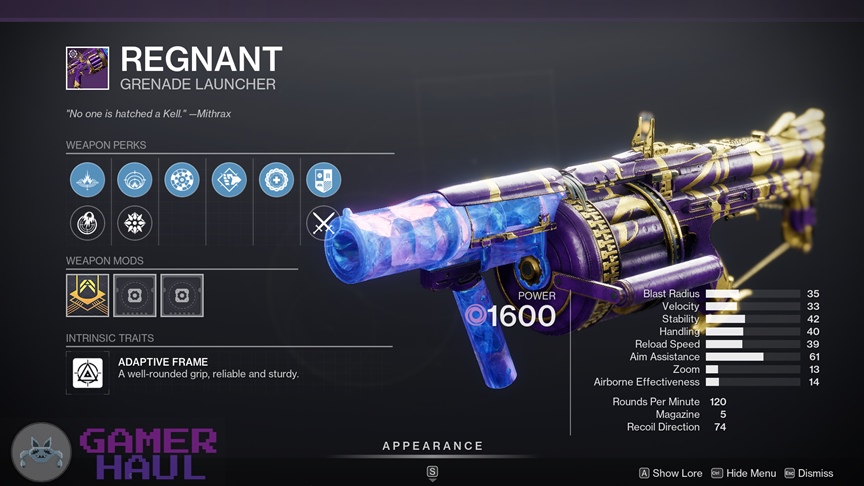 ---
Regnant Grenade Launcher God Roll for PvP
| | | |
| --- | --- | --- |
| Barrel: | Quick Launch | For maximum Velocity and Handling. |
| Magazine: | Proximity Grenades | Increases Proximity Detection of the grenades, which means that your grenades will hit and deal damage even if you miss your targets by a short margin. |
| Trait #1: | Shot Swap | It grants 100 handling for final blows, allowing you to ready-and-stow the grenade launcher at max speed. |
| Trait #2: | Unrelenting | Since a single Guardian defeat counts as more than one kill for this perk, every final blow with the Regnant will trigger health regeneration. And we all know how vital healing is in PvP! |
| Masterwork: | Velocity | +10 Velocity |
| Mod: | Quick Access Sling | For faster base ready-and-stow speed. |
Note: Crafting Enhanced versions of these perks is entirely up to you and your resource availability.
Grenade Launchers are pretty handy in PvP, and the best part is that you can load them with more Heavy Ammo (3) compared to Rocket Launchers (1). So, if you're a fan of using GLs as your Heavy weapon in Crucible, you should definitely give the Regnant a shot!
---
How to Get the Regnant GL in Destiny 2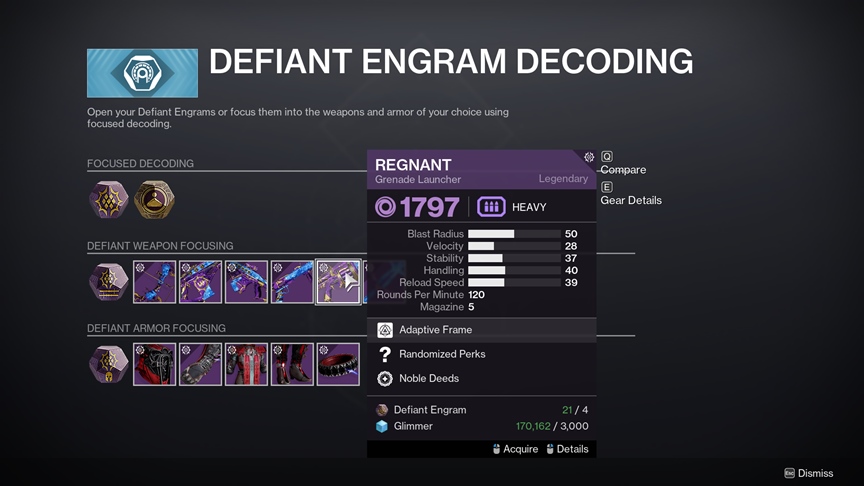 The Regnant is a craftable Season of the Defiance weapon, and you'll need to extract five patterns (Deepsight Resonance) to unlock it for shaping (crafting) at The Enclave. Since it is a seasonal weapon, there are essentially four ways to farm for its 'red borders':
Completing the quest steps for the Seasonal Quest, We Stand Unbroken.
Completing missions in the Defiant Battlegrounds playlist in the H.E.L.M.
Decoding Defiant Engrams at the War Table in the H.E.L.M.
Focusing it after unlocking the 'Defiant Weapon Focusing' upgrade for the War Table.
Note: This is most definitely unintentional on Bungie's part, but the game allows you to 're-acquire' the weapon after you've unlocked it in your Collections. Go into the Start Menu > Collections > Weapons > Heavy > Grenade Launchers > 2nd Page to find the Regnant and roll it with random perks for 1,000 Glimmer, 10 Legendary Shards and 7 Enhancement Cores.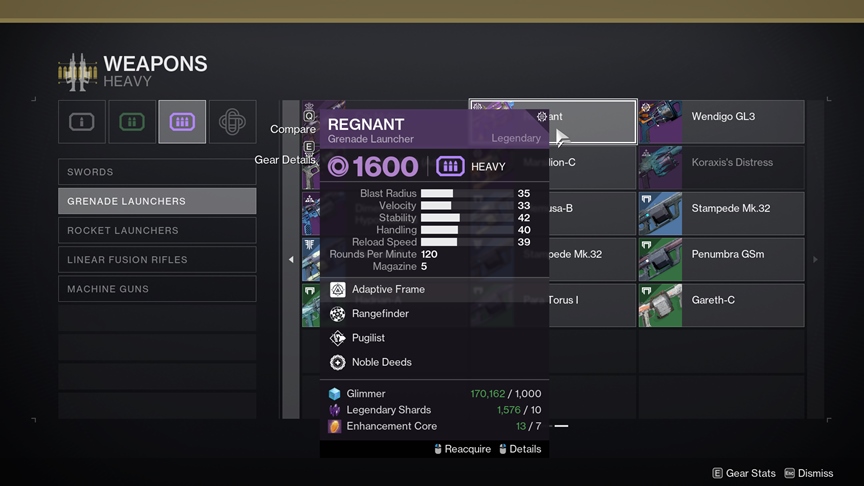 ---
Click here to check out our latest Destiny 2 guides!
That is everything you need to know about how to get the new Regnant Grenade Launcher in Destiny 2 and its god-roll perks. Leave a comment if this guide helped, and stay tuned to Gamer Haul for more!