Honkai: Star Rail is a turn-based action RPG that is the fourth installment in the popular Honkai series, developed and published by HoYoverse. The game's plot revolves around the aftermath of events that took place in Honkai Impact 3rd, after which Welt Yang travels to a parallel universe to begin his own journey. The game has been released for several platforms, including PlayStation 5, the PlayStation 4, Microsoft Windows, iOS, and Android.
As you put in a few hours into the game, you'll soon realize that you will need Stellar Jade often, which happens to be the main currency in the game that you'll be using for simple transactions such as purchasing Star Rail Passes as well as acquiring certain new characters. The quickest way to get your hands on it would be to purchase it with real money, of course. But if you're a fellow F2P player (or a low-spender) willing to spend some time and farm it for free, we've got a bunch of tips and tricks for you guys!
Related: How to Claim Honkai Star Rail Twitch Drops
---
Honkai Star Rail: How to Farm Stellar Jade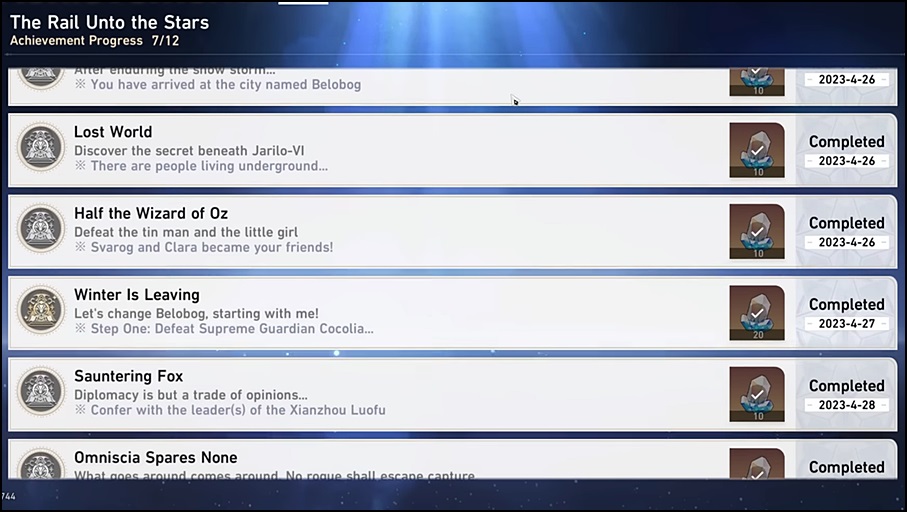 There are ten ways using which you can efficiently farm Stellar Jade in Honkai Star Rail; they are:
Daily Training Goals

A quick way to farm Stellar Jade, these goals are updated daily, allowing you to earn about 60 Stellar Jade per day. They're also relatively easy to complete, so make sure you make the most of them! These goals can be found in the daily training section of the Interastral guide.
Opening Treasure Chests

You'll find treasure chests scattered all around in the realm of Honkai: Star Rail, roam around and open some of them to get rewarded with some Stellar Jade as well as a few other items you might need. For every basic chest you open, you'll be rewarded 5 Stellar Jade, 20 Stellar Jade from bountiful chests, and finally, from precious chests, you'll be rewarded about 30 Stellar Jade.
Completing Achievements

Have a look at the achievements that you'll need to complete in order to get rewarded. While most of these will automatically be completed as you normally play the game, knowing what to do will make sure that it happens faster! You can claim your reward from the "Achieved" section of the menu. The majority of these achievements will reward you with Stellar Jade.
Spending at World Shops

As you might be aware, there are different worlds in the game, and for every world there is, there's also a shop for it. All you need to do to get rewarded by these shops is to keep spending at them and complete the spending goal. Once done, you'll be rewarded with 50 Stellar Jade.
Completing Missions

This is one thing you will have to do as you progress through the game's storyline, so don't stress about this too much. Not every mission in the game will reward you with Stellar Jade, but the ones which will, will get you about 30-60 Stellar Jade.
Operation Briefing Awards

The Interastral Guide holds five different goals for you to choose from and complete. Once you've done all of them, you'll be rewarded with about 50 Stellar Jade.
Trailblaze Levels

Another method that'll get you significant amounts of Stellar Jade is leveling up your Trailblaze. You'll be able to earn around 50-100 Stellar Jade this way.
Forgotten Hall Challenges

You can only do this once you've reached Trailblaze level 21, after which you'll unlock some battle challenges on the Astral Express. Once you start with those battle challenges, you'll also be given some additional objectives, complete them, and you'll be rewarded with about 200 Stellar Jade for every 3 objectives you complete!
Simulated Universe

Complete Simulated Universe runs at the Herta Space Station to get rewarded with a bunch of Stellar Jade. Doing it for the first time will get you around 100 Stellar Jade; thereon, you'll be rewarded 75 every week for a high score in world completions.
Character Aptitude Showcase:

Completing a five-star Character Trial will grant you about 20 Stellar Jade. You can find this in the Travel Log, and this will refresh every time there's a new five-star character available.
---
Click here to check out our latest gaming guides!
That's everything we have on how you to farm Stellar Jade faster in Honkai: Star Rail. Good luck with your grindy adventures, fellow Trailblazer!
If you liked this article and found it helpful, let us know in the comments below. And remember to keep an eye on Gamer Haul for the latest updates and best guides for your favorite games!
---