EA SPORTS™ FIFA is the most popular, successful, and long-running sports video game title in existence. The 'FIFA Ultimate Team (FUT)' cross-platform multiplayer game mode, which includes frequent events, objectives, and 'promos,' is the primary reason the game continues to generate revenue for EA. FUT Team of the Year is one such once-a-year promotion, and it is also the most awaited by fans. Here are all the details about FIFA 23's TOTY promo!
What is the FIFA 23 Team of the Year Promo (TOTY 23)?
The Team of the Year promo is one of the most significant promotions that EA does every year. The player cards released as part of this promotion depend solely on community voting, and this year, players can choose their favorite playing 11 from a pool of 100 nominee Goalkeepers, Defenders, Midfielders, and Attackers. The 12 players with the highest votes will be proclaimed the best players of 2022, and each will get a unique TOTY card in the future promo. By opening packs, finishing objectives, and completing Squad Building Challenges, FIFA players will be able to obtain these highest-rated cards with the finest stats yet for the individual players.
FIFA 23 (FUT) Team of the Year Nominees
What's your 'Team of the Year'? Here are the lists of all the nominated players for each position to assist you in selecting your best 11 from the top 100!
How to Vote for Your Favorite Players for FIFA 23 Team of the Year (TOTY 23)
You only need to follow a few easy steps to cast your vote for the players you wish to see in this future FIFA 23 TOTY promo:
Go to the official FUT TOTY voting website.
(Optional) Sign in to your EA Account by clicking on the Profile icon at the top.
From the list of players below, select your top players for each position (1 Goalkeeper, 4 Defenders, 3 Midfielders, and 3 Attackers).
Drag-and-drop each player's card to their respective playing positions in the field layout.
Confirm your selections and click on the terms and conditions checkbox.
Click on the 'Submit Vote' button.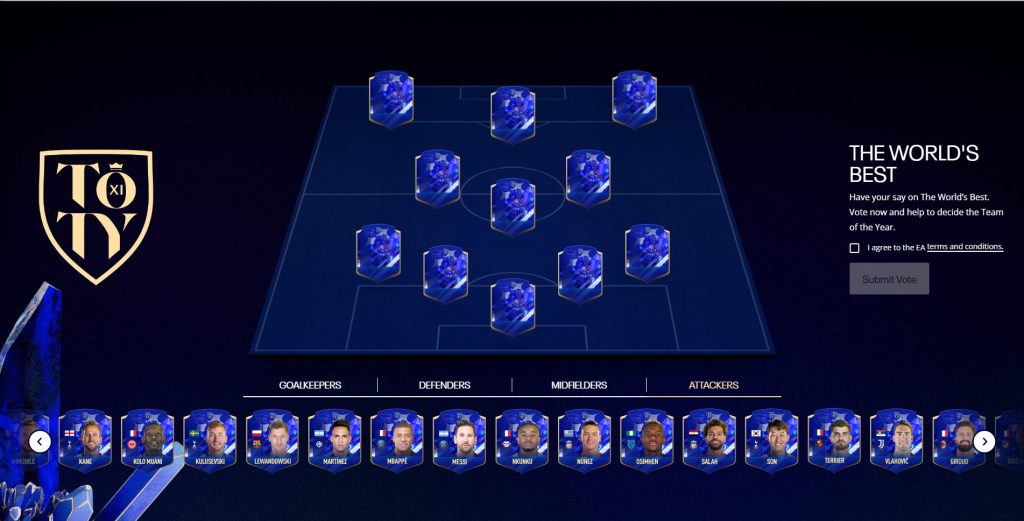 FIFA 23 Team of the Year Release Date & Schedule
According to EA Sports, the official FIFA 23 Team of the Year will be revealed "later in January," although no specific date has been announced. However, because FIFA games are released yearly, the release date for this year's TOTY is quite predictable. The promo cards should start appearing in-game on Friday, January 20.
In case you are wondering when each set of TOTY players will be added to FIFA 23, Twitter user @FUTMentor has shared a schedule for the same:
---
That sums up everything you need to know about the upcoming FIFA 23 Team of the Year promo. Keep an eye on EA's official social media handles for the final tally and don't forget to follow Gamer Haul for all things gaming!