Hogwarts Legacy has only been available for a little more than a week, but modders have already found a new home in the realm of witchcraft and magic. It's been a lively week for the modding community, with simple mods that let you transform your wand into the Elder Wand from the movies to game-changing mods like 'HogWarp,' which will soon allow you to play the single-player RPG in multiplayer co-op mode. Joining that list is a new mod by modder 'StepOst,' that will make you feel like you're a member of the Weasley family.
Say goodbye to your boring old broom and traverse the Scottish Highlands in style with this mod, which replaces the cheapest 'Yew Weaver' Broom model with Ron Weasley's flying Ford Anglia 105e from the Harry Potter novels and films! So, once you've copied the mod files into your game's directory, the automobile will be ironically available for purchase in the broom store 'Spintwitches Sports Needs' in Hogsmeade. After purchase, simply select it from your Gear menu like you would any other broom and take off in your new vehicle using the broom key bindings. Just remember not to drive, or in this case fly, your new asset into a spider cave or something!
The Ford Anglia 105E mod is still a bit of a work in progress, and you might find the car glitching out and your character's legs dangling out of its floor from time to time. But StepOst has already announced that they're working on optimizing the mod and making it even better. If you want to show off your new wheels to your fellow Hogwarts Legacy friends, you can download the mod from the official NexusMods page here.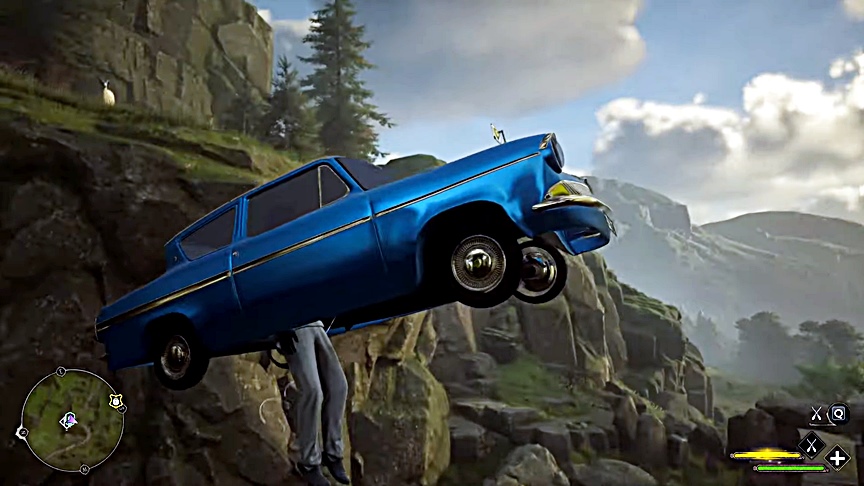 If you're curious about other mods available for Hogwarts Legacy, then you'll be pleased to know that there's more on the way. From an early multiplayer build from the modding team behind the 'Skyrim Together' mod to the initial footage of Hogwarts Legacy VR, in development by modder PrayDog – there's no shortage of new stuff to keep things interesting in the open-world game that every Harry Potter fan has been waiting for!
---
Click here for the latest Hogwarts Legacy guides!
Hogwarts Legacy is available now on PlayStation 5, Xbox Series X|S, and PC; and scheduled for release on April 4, 2023, on PlayStation 4 and Xbox One, and July 25, 2023, on Nintendo Switch.