Increase EL Honkai Star Rail – Equilibrium Level (EL) is a crucial factor that dictates the difficulty level of the game, as well as the loot you can obtain in the world of Honkai: Star Rail – HoYoverse's latest offering in the RPG genre. While farming for better items is essential to improve your character's stats, you'll soon struggle with sub-par drops if you don't increase your Equilibrium Level. And in this Gamer Haul guide, we'll teach you how to do precisely that!
---
HSR: How to Increase Equilibrium Level
Currently, the only way to increase your Equilibrium Level is by completing the Trials of Equilibrium challenge after reaching specific Trailblaze Levels. There are a total of seven Equilibrium Levels to grind for in Honkai: Star Rail, and once you reach the required Trailblaze Level, a mission to challenge the Trial of the Equilibrium rift will appear. You can track this quest to locate and complete it.
Equilibrium Level Requirements: To help you plan your strategy, here are the Trailblaze Levels required to challenge the Trials of the Equilibrium for each Equilibrium Level:
Equilibrium Level 1 – Trailblaze Level 20
Equilibrium Level 2 – Trailblaze Level 30
Equilibrium Level 3 – Trailblaze Level 40
Equilibrium Level 4 – Trailblaze Level 50
Equilibrium Level 5 – Trailblaze Level 60
Equilibrium Level 6 – Trailblaze Level 65
Equilibrium Level 7 – Trailblaze Level 70
---
What is Equilibrium Level in Honkai Star Rail?
Equilibrium Level is Honkai's way of saying "World Level" or "Power Level," which determines the game's difficulty level. Increasing your EL will result in stronger enemies and better loot, and it will also unlock certain tasks, items, and upgrades. Many game mechanics require you to increase your EL, so if you want to progress further in HSR, you'll need to increase your Equilibrium Level!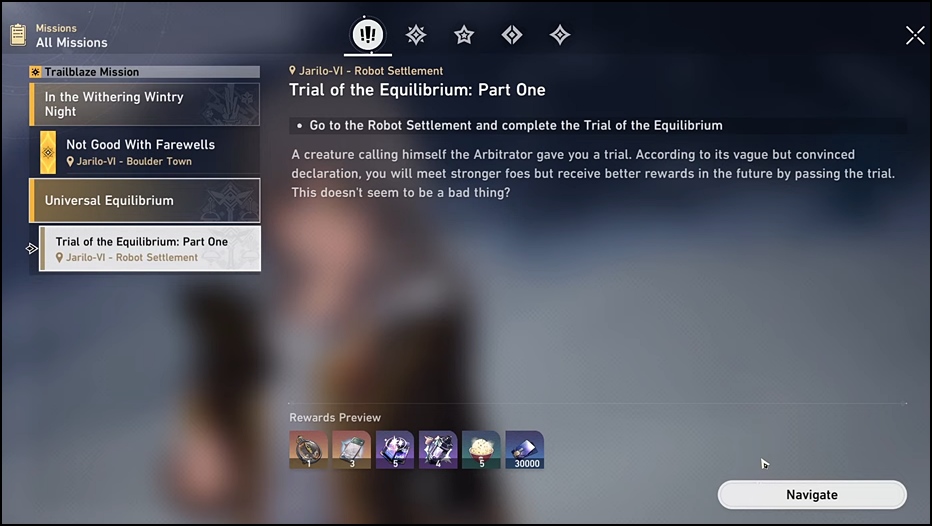 ---
Click here to check out our latest gaming guides!
If you liked this article and found it helpful, let us know in the comments below. And remember to keep an eye on Gamer Haul for the latest updates and best guides for your favorite games!
---