Warden's Law has returned in Season 22 after being away since the Season of the Outlaw. This burst-fire hand cannon has always felt unique amongst its peers, and I was eager to get my hands on one with a killer roll. After spending some quality time farming Nightfalls, here's the verdict on Warden's Law and what perks to look out for.
---
How to Get Warden's Law
Warden's Law is a Nightfall-exclusive weapon, meaning the only way to get it is by completing Nightfall strikes. The higher the difficulty, the better chance you have of it dropping, with Grandmaster Nightfalls guaranteeing a drop of the Adept version if you clear all the Champions.
Once you've obtained one Warden's Law, you can buy random rolls from Zavala for 25 Legendary Shards, 20,000 Glimmer, and a Vanguard Engram. However, you'll need to wait for Warden's Law to come up in the six-week rotation before you can purchase Adept versions this way.
At the time of writing this article, this weapon is in rotation. On top of that, Nightfall Rewards are doubled.
Read: The Guiding Sight God Roll
---
PvP God Roll
For PvP, you want to focus on range and stability. Here's the roll I would look out for:
Barrel: Hammer-Forged Rifling – boosts range
Magazine: Accurized Rounds – boosts range
Perk 1: Moving Target – improves target acquisition
Perk 2: Kill Clip – increases damage after reloads after a kill
Masterwork: Range
Origin Trait: Vanguard Vindication
Mod: Targeting Adjuster for +5 Aim Assistance
You can also replace Moving Target with the newly introduced Enlightened Action perk, which boosts handling and reload speed on dealing damage. This perk stacks up to 5 times.
The perk is surprisingly good, and no one even mentioned it. The base handling is 29, and the reload speed is 27, which gets boosted to 74 and 77, respectively, once the perk is stacked five times. If you're someone who plays a lot of PvP, you'll know how important high handling is.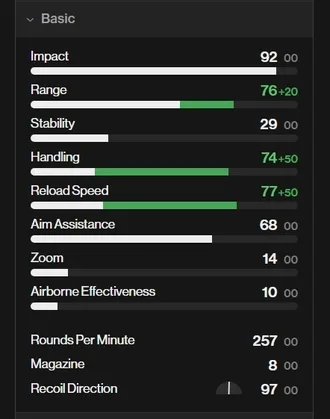 This roll maximizes range thanks to Hammer-Forged Rifling and Accurized Rounds. Moving Target makes it easier to land those crucial bursts on target, and Kill Clip lets you consistently two-tap guardians.
Read: Point of the Stag God Roll
---
PvE God Roll
For PvE, range is less important, so focus on stability, handling, and reload speed. My ideal PvE roll is:
Barrel: Fluted Barrel – improves handling
Magazine: Tactical Mag – faster reloads and stability
Perk 1: Enlightened Action – Dealing damage improves reload speed and handling.
Perk 2: Frenzy – damage buff when in combat for an extended time
Masterwork: Reload Speed
Origin Trait: Stunning Recovery
Mod: Backup Mag for Extra Ammo
Fluted Barrel and Tactical Mag together make the gun feel very snappy. Enlightened Action is a newly introduced perk that gives you a reload and handling buff on dealing damage, which will always be the case in PvE activities.
---
Which Adept Mod To Choose?
PvP: Adept Range
PvE: Adept Big Ones or Reload
While other S-Tier hand cannons like Austringer and Posterity outclass it in PvP, a good Warden's Law roll makes this burst-fire hand cannon a strong choice in PvP. The ability to two-tap with Kill Clip gives it a very competitive time-to-kill.
All in all, finding a 5/5 roll for this weapon will depend on how good your RNG is. For me, I was able to get a mere 2/5 roll after farming for 4-5 hours and decided to give up. I hope that doesn't happen to you. Good luck with your farming endeavors, Guardian!
Check out all of our Destiny 2 Guides.